Heilind Electronics Now Stocking JAE DX07 Series USB Type-C Cable Assemblies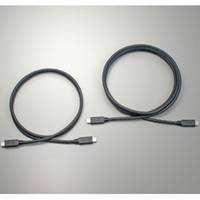 JAE Electronics' DX07 Series cable assemblies are compatible with next-generation USB Type-C protocol for higher speeds and scalable performance
WILMINGTON, MASS. (PRWEB) MAY 22, 2018 - Heilind Electronics, a leading global distributor of electronic components and authorized distributor for JAE Electronics, has expanded its extensive inventory of interconnect products with the manufacturer's DX07 Series USB Type-C cable assemblies.
The cable assemblies are USB-certified, with assigned TID numbers for USB 3.1 performance. One end supports USB Type-C and the other end supports either a USB Type-C or Type-A connection. In addition, the assemblies accommodate up to 10 Gbps SuperSpeed Plus communication and a maximum 5 A power supply for faster charging.
A key feature of the DX07 Series is its reversible plug design; the symmetrical interface allows the plug to be inserted in either direction. The assemblies also feature superior EMI/EMC shielding, as well as friction locking to ensure a secure connection.
Because of their compact size and expansive capabilities, DX07 Series cable assemblies are used in a wide variety of applications including mobile phones, computers, office appliances, audiovisual equipment and factory automation equipment.
Visit Heilind's website for more information about JAE's DX07 Series USB Type-C cable assemblies.
About Heilind Electronics
Heilind Electronics, Inc. (http://www.heilind.com) is one of the world's leading distributors of connectors, relays, sensors, switches, thermal management and circuit protection products, terminal blocks, wire and cable, wiring accessories and insulation and identification products. Founded in 1974, Heilind has locations throughout the U.S., Canada, Mexico, Brazil, Germany, Singapore, Hong Kong and China. Follow Heilind on Facebook at facebook.com/Heilind and on Twitter at twitter.com/Heilind.
Contact Information
Mark Romanowski
Heilind Electronics
http://www.heilind.com/
+1 978-988-3307
More from Electrical Equipment & Systems