Heavy Equipment Manufacturer Saves Money and Improves Quality with NVision 3D Scanner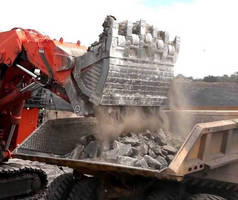 (Coppell, TX) A heavy equipment manufacturer with facilities throughout the world has improved the dimensional accuracy of its ground engagement tools by using an NVision HandHeld laser scanner to measure tooling and finished products with a higher degree of accuracy than was possible in the past. Measuring these tools is challenging because of the complexity of their shapes, tight dimensional tolerances and harsh manufacturing environment. "We have significantly lowered our reject rate and improved our ability to hold close tolerances by using the HandHeld laser scanner to generate complete 3D geometry at all stages of the product development process," said a 3D Scan Technician for the manufacturer.



The company is a leading manufacturer of buckets, teeth, edges and other products for construction and mining equipment. Teeth produced for earth moving equipment typically have organic shapes that are difficult to measure because they have relatively few flat surfaces that can be used for traditional gauge measurements. Inspection is difficult even with coordinate measuring machines (CMMs) because such a large number of points need to be captured to fully inspect a 3D surface.



The manufacturer first considered laser scanning about a decade ago as a possible inspection technology. It looked at three or four service bureaus and chose NVision because it offered the best combination of service and price. NVision scanned a few of the company's parts and tools and the manufacturer decided that it needed to bring the technology in-house and purchased the company's HandHeld scanner.



The HandHeld scanner is a portable scanning device attached to a mechanical arm that moves about the object, freeing the user to capture data rapidly and with a high degree of resolution. An optional tripod provides complete portability in the field. Intuitive software allows full model editing, polygon reduction, and data output to all standard 3D packages.



"NVision's HandHeld scanner has consistently demonstrated the ability to provide accurate results even when used in a dusty manufacturing plant," said the 3D Scan Technician. "Another advantage is its portability - it is light and compact so that we can, when necessary, take it right to a customer's job site for inspection work. The HandHeld scanner has also proven to be extremely reliable, operating for nine years in difficult conditions with virtually no downtime."



For more information, contact NVision, Inc., 440 Wrangler Dr, Suite 200, Coppell, TX 75019. Ph: 972.393.8000, Fax: 972.393.8002. E-mail: sales@nvision3d.com. Visit NVision's Web site at http://www.nvision3d.com/.



About NVision

NVision, Inc. (http://www.nvision3d.com) was established in 1990 with one goal in mind: to provide customers with the highest accuracy non-contact optical measurement systems and services for Reverse Engineering and Inspection. Focusing our expertise on the aerospace, power generation, and oil/gas industries, NVision provides both contract scanning services and systems sales to companies throughout North America. Our elite team of engineers provides customers with an unmatchable level of experience and is able to advise and assist with the most difficult engineering challenges.



NVision's clients include industry leaders such as Delta Airlines, FMC, GE, Halliburton, Kohler, Lockheed, NASA, Porsche, Raytheon, Siemens, Texas Instruments, and the U.S. military.

More from Machinery & Machining Tools