Heavy Duty Hinges for Severe Load Service Doors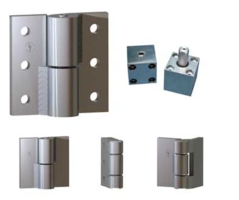 The project required an assortment of heavy duty hinges to support dozens of security doors subjected to severe loading while in service. The scope consisted of doors ranging in weight from 1,000 lbs to 100,000 lbs, fabricated from solid plate steel up to 6" thick, and door sizes varying in width and height, from 3' x 7' to 24' x 18'.
Customer specifications included vertical and radial components of the following:
Dead Loads - loads associated with the total weight of each door.
Seismic Loads - ground acceleration forces that occur in service.
Brookfield's published ratings for heavy-duty hinges are based on dead loading in the vertical and horizontal planes:
Door Weight Capacity (aka: vertical capacity or thrust load capacity).
Radial Capacity (aka: horizontal capacity, generated from door moment arm).
First, Brookfield selected a hinge size with a Door Weight and Radial Capacity that slightly exceeded the dead loads provided with each door. With the addition of seismic requirements, further evaluation of the hinges would be necessary.
A complete stress analysis was then performed on the selected hinge with both dead and seismic loads acting simultaneously. Having the latitude to increase the allowable loads during a seismic event, enabled Brookfield's engineers to optimize the hinge size for a particular door. If the chosen hinge did not pass the analyses, the team would repeat the process with next hinge size and continue until a hinge model met or exceeded the safety factors in all applicable codes, standards, and specifications.
Since the Series W and Series K product lines offer an extensive selection of hinge capacities to choose from, we were able to optimize the "best fit" for all the doors without oversized hinges or costly customization. This was accomplished with a variety of selections from the W125HD through the K6000 models.
About Brookfield Industries
Brookfield Industries is the pioneer of specialty products for the heavy commercial/industrial door market. Brookfield is proud to be in its 5th decade of being the original manufacturing company of industrial/commercial door operators and precision engineered, heavy duty hinges. Brookfield's products are found in thousands of installations worldwide. They are used for cancer treatment, industrial radiation, nuclear, petrochemical, security, acoustical, EMI/RF, and heavy duty architectural applications. All products are manufactured with pride in the USA. To learn more about Brookfield's extensive product line, please visit www.bfimfg.com, or call 860-283-6211.