Harwin's Datamate Mix-Tek Cable Housings, Available Now at TTI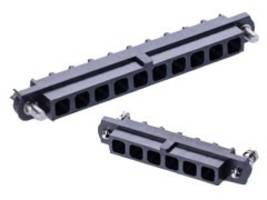 Fort Worth, Texas – January 21, 2021 – TTI, Inc., a leading specialty distributor of electronic components, announces the availability of Datamate Mix-Tek Cable Housings from stock today.
Harwin's Datamate Mix-Tek is a 2mm pitch (signal) and 4mm pitch (power/coaxial) high-reliability, high-performance connector range with a proven track record for performance under extreme conditions. Male and female cable connector housings can be specified in combination with signal contacts for a true mixed technology connector. Housings are compatible with any of the following contact options: standard power (20A), high power (40A) and coax (50Ω). The products are ideal for commercial off-the-shelf (COTS) requirements. Typical applications include aerospace, defense, avionics and guidance system, to name but a few.
To learn more, visit Datamate Mix-Tek Cable Housings at TTI.
About TTI
TTI, Inc., a Berkshire Hathaway company, is an authorized, specialty distributor of electronic components. Founded in 1971, the emphasis on a broad and deep product portfolio, available-to-sell inventory and sophisticated supply chain programs have established TTI as a distributor of choice to manufacturers in the industrial, defense, aerospace, transportation, medical, and communications sectors worldwide. TTI and its wholly owned subsidiaries, the TTI Family of Companies, Mouser Electronics, Sager Electronics and TTI Semiconductor Group employ over 7,000 people in more than 133 locations throughout North America, South America, Europe, Asia and Africa. Globally, the company maintains over 2 million square feet of dedicated warehouse space housing over 850,000 component part numbers. For more information about TTI, visit www.tti.com
More from Materials