Hardinge Expands Their Line of European-Style Collets and Feed Fingers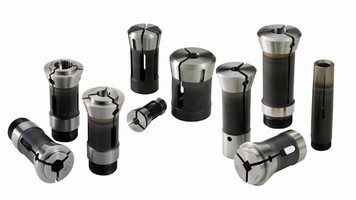 Hardinge Inc. (Elmira, New York) continues to expand their line of European-style collets to meet the increased demand from multi-spindle machine owners in North America. Hardinge will manufacture and inventory solid collets, master collets & pads, solid feed fingers and master feed fingers & pads. They will fully support Euroturn, Gildemeister, Index and Schütte machines with 24-hour shipping of standard fractional and whole metric sizes. Decimal sizes and products for other brands of machines will be available within a 5 to 7 day delivery. Hardinge will offer a semi-finished blank program for pickoff burring collets and special-shape collets for fast turnaround. "Hardinge will strive to be the supplier of choice for collets, feed fingers and pickoff collets for the automatic multi-spindle machines," states Cal Macomber, Director of Sales and Marketing for Hardinge Workholding Group.

FYI: Match the collet to the bar stock
If you use inch bar stock, you should use fractional collets - NOT metric. Very few metric sizes have a direct fractional equivalent. Metric collets for metric bar stock, fractional collets for inch bar stock, and decimal collets for decimal bar stock will provide the best results. Match the collet size (order hole) exactly to the workpiece or bar stock diameter. If you are using ¼-inch bar stock with a 6mm collet, you could get push-back, chatter or poor concentricity because the collet is smaller than the bar stock. Most operators don't realize the ramifications of such a small variance in diameter. If the collet order hole is larger than the workpiece or bar stock, the part may pivot at the line of contact at the face of the collet. If the collet order hole is smaller than the workpiece or bar stock, the edges of the slots will bite into the workpiece and may cause damage or mark the bar. When the collet is the proper size for the workpiece or bar stock, there is a full bearing along the angle and the circumference of each segment of the collet where they mate with the spindle angle (seat)

Use exact finished stock whenever possible to increase your productivity and profitability. By using exact finished stock, you will increase cycle time because you have less material to remove and also less chips to manage. You will also require less tooling, having eliminated the roughing and finishing tools. Cost studies have proven substantial savings when switching to exact finish bar stock when the job permits.

Hardinge has listened.
Previously, very few North American collet manufacturers have carried fractional European-style collets, and fractional collets come with a long delivery time from European manufacturers. Hardinge is stepping up to the plate and responding to customer requests by manufacturing and stocking many popular European-style collets in Elmira, New York. Hardinge has been making multi-spindle specials-to-order since the 1960's, and stocking a limited range of European-style collets for the past 25 years. Now, they will be filling their shelves with more styles and sizes! If you are a large user of multi-spindle collets, give Hardinge a call to make sure that they have set up inventory to accommodate your company's needs!

For more information call Hardinge at 800-843-8801 or visit the e-commerce site at www.hardingetooling.com.


Related