Rotary Positioning Stages / Tables
Hardinge Demonstrates Super-Precision®, Low-Profile Rotary Technology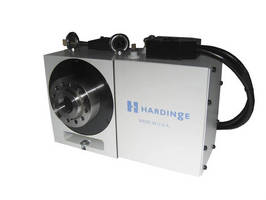 IMTS booth 8348. Hardinge's Low-Profile Rotary Systems are sleek, fast and accurate. They are engineered to support heavy loads and high-force cutting applications while maintaining accuracy over a long life. With the fast clamp and release feature, you get increased parts-per hour. The GD210LP is a rotary table with a removable face plate and an A2-5 spindle that will accept many different kinds of spindle tooling, including manual chucks. The GD160LP, new for Hardinge this year, features an extended A2-4 spindle with a standard slotted face plate. An optional collet closer will allow you to use 5C collets, expanding collets and step chucks.

The built-in clamp handles off-center drilling, cross-axis milling and other high-force cutting applications. Hardened steel worm and gear offers long life and continued accuracy. The double eccentric design provides the finest possible gear mesh available. Flexible quick-change workholding systems give you speed and accuracy in your machining operation. The extended spindle on the GD160LP offers better tool clearance, an important feature that gives you more machining options in your work envelope.

Wireless communication allows you to communicate with the control box, freeing you from being tethered to a cable. The Low-Profile Rotary System, like all Hardinge rotary products, is made in the USA.

More from Computer Hardware & Peripherals