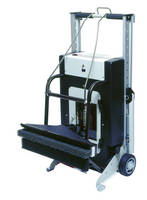 U.S. Products' TreadMaster automatic escalator cleaner cleans and polishes escalators quickly and safely, with little or no worker involvement.



Amazingly easy to set up and take down, the TreadMaster includes a built-in vacuum system, heavy-duty polishing pad, nylon grit brush, and handy clip-on "Escalator Cleaning in Progress" sign to deter escalator passengers.



Position the TreadMaster at the bottom of the escalator, lower the cleaning head into position, and activate the escalator. A variety of cleaning head sizes are available along with custom head sizes.



For more information, visit www.usproducts.com or call toll free 1-800-257-7982.



More from Fasteners & Hardware