Handling Specialty Awarded Contracts to Build Underwater Stage Systems for Cruise Ships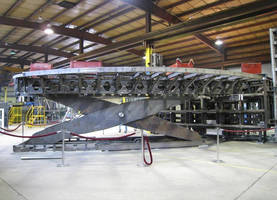 Grimsby, ON - Two multi-million dollar contracts have been awarded to Handling Specialty for the design and manufacture of three systems for Royal Caribbean International's latest vessels – the Oasis of the Seas and Allure of the Seas, which will be the world's largest cruise ships. Handling Specialty is supplying a complete turnkey package for both ships, include a trio of underwater lifts for the AquaTheater, along with two diving board tilters and one trampoline rotator.



The Underwater Lift System will form the stage area for the largest and deepest freshwater pool at sea. Throughout the day and evening, the lifts will rise or lower to meet the needs of each performance.  The system is comprised of two side lifts and a runway lift, with a total capacity of 90,000 lbs., covering an area of approximately 1,000 sq. ft. The hydraulically-actuated lifts operate with non-toxic water glycol fluid. The platform is perforated with approximately 432,000 holes to allow the stage to travel through the 20 ft deep pool with minimum displacement of water.



In order to create a barrier in the pool for movement of water from side to side, the runway lift features a vertically telescoping platform. With a platform capacity of 10,000 lbs, the equipment can withstand an average of 10 kpa horizontal "sloshing load".



All three units will be synchronized to a maximum of ± 5/8 inches between platforms during motion, and ±3/16 inches when stopped.



The AquaTheatre's 17 ft x 10 ft Rotating Trampoline System will be positioned adjacent to the pool. On one side of the assembly is the 7 ft x 14 ft trampoline for use by professional gymnasts and aerialists during performances. The system can be rotated 180° in under 5 seconds to store the trampoline and reveal the Mondo gymnastic flooring matching the surrounding deck. 



Two 14 ft professional Duraflex diving boards, mounted on hydraulically actuated tilters, will be positioned on the dive towers located on either side of the pool. The tilters will raise and hold the diving boards vertically for storage and lower the boards into dive position during performances.



More from Electronic Components & Devices