Greenheck Announces the Release of CAPS 4.5 with 3D Revit® Content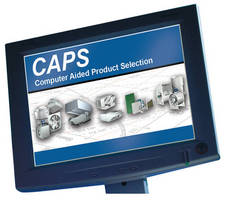 Greenheck recently released Version 4.5 of its Computer Aided Product Selection Program (CAPS). This release of the AMCA certified CAPS program offers users the ability to download Revit Drawing files for many of the products in CAPS. These files include specific performance based information on the respective product. CAPS 4.5 also includes new products such as digital scroll compressors on energy recovery models ERCH and VER; ceiling radiation damper model CRD-1WT; FEMA grille model FSH 801, and a horizontal wall screen model EES-401. In addition, to comply with the new EISA regulations, new motor efficiencies are in place. Many product enhancements and improvements have also been included.

Greenheck is the worldwide leader in manufacturing and distributing air movement and control equipment.

To download CAPS 4.5, go to the software tab at greenheck.com. For more information about Greenheck products, visit www.greenheck.com or contact Greenheck, P.O. Box 410, Schofield, WI 54476-0410, (715) 359-6171, FAX (715) 355-2399.

Related