Green Products, Co. Offering 70% and 99% Isopropyl Alcohol in Economical 4-Gallon Cases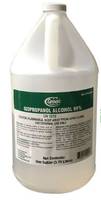 Richmond, CA – Green Products Company has been in business since 1991, providing professionals with the very best in wood care products, and preservatives, and now offering cleaning and medical supplies.
We're selling our two best alcohol products at an economical four-gallon case price, saving web searching, shopping time and money for an important everyday staple.
Green Product's 99% Isopropyl Alcohol also known as isopropanol or IPA, is the most common and widely used disinfectant within dispensaries, pharmaceutics, labs, hospitals, cleanrooms, and medical device manufacturing. It's great for cleaning electronics and an extremely effective sanitizer. $112. plus tax and shipping (4 gallon case)
Green Products 70% Isopropyl Rubbing Alcohol is the most commonly used disinfectant in medical labs, doctors offices and hospitals. It destroys surface microorganisms and is used to safely clean hands and medical equipment. It is a great topical for minor cuts and abrasions, reducing the risk of infection. $102. plus tax and shipping (4 gallon case)
Both are available online along with many other products: greenproductsco.net Or call us at (510) 235-9667 and we'll be happy to take your order.
We make it easy to preserve, protect and clean what you value and most of all…make it last.
Related