Gowanda Electronics' Power Inductors Achieve Highest Level of Certification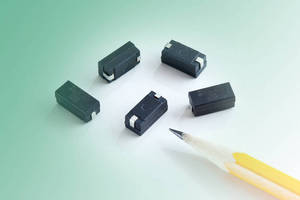 Gowanda, NY (USA) - Gowanda Electronics, a US-based designer and manufacturer of precision electronic components for power, radio frequency (RF), and high frequency (HF) applications, has achieved the highest level of certification on three surface mount power inductor series. Gowanda's three "MLP" series have been added to the military's Defense Logistics Agency (DLA) Land and Maritime Qualified Products List (QPL) for MIL-PRF-27 Level T. This is the highest quality level attainable per the Department of Defense military specification MIL-PRF-27 for components used in high-reliability critical military applications. Gowanda is the first in the industry to offer these Level T components.

Gowanda's MLP5025-T series is qualified to MIL-PRF-27/367A while the company's MLP1812-T series meets MIL-PRF-27/368A and the MLP8527-T series meets MIL-PRF-27/370A. By achieving Level T certification on these wirewound molded power inductors, Gowanda is responding to a need conveyed by organizations in the military market for a high-reliability QPL-approved inductor supplier for this mil spec.

These MLP series are designed for power applications in military, space, aerospace and defense communities. This includes use in communication, guidance, and security applications, as well as in radar, test & evaluation, and special mission applications.

The three T Level QPL series from Gowanda allow customers immediate access to higher level environmentally screened inductors. This streamlines the customer's operations by eliminating the need to create their own internal upscreening documentation.

Gowanda Electronics now offers these Level T products in addition to its MIL-PRF-27 Level M qualified products initially introduced in 2009. The Level T certification requires more extensive lot conformance testing and inspection than Level M. Each Level T production lot is subjected to 100% thermal shock, burn-in and radiographic inspection in addition to electrical testing. The customer-specific application determines the need to meet Level M or Level T requirements. These series are also suitable for use in non-military high reliability (hi-rel) or high risk applications which warrant a thoroughly tested inductor coil.

Technical specifications for the discrete part numbers within these series address the following ranges:

o MLP5025-T: Inductance (0.22 to 22000 µH); Current Rating (7.00 to .050 Amps); DCR Max (.0080 to 160.0 Ohms)

o MLP1812-T: Inductance (1.0 to 330 µH); Current Rating (1.050 to .090 Amps); DCR Max (.113 to 15.240 Ohms)

o MLP8527-T: Inductance (1.0 to 18000 µH); Current Rating (6.27 to .09 Amps); DCR Max (.009 to 40.0 Ohms)

Technical information about the three MLP series is available at the company's website.
Data Sheets:

o MLP5025-T: www.gowanda.com/files/MLP5025T.pdf

o MLP1812-T: www.gowanda.com/files/MLP1812T.pdf

o MLP8527-T: www.gowanda.com/files/409271523_MLP8527T.pdf

Product Information:

o MLP5025-T: www.gowanda.com/products_qpl/series.asp?o=4&a=8&c=12&sc=80&s=MLP5025LevelT

o MLP1812-T: www.gowanda.com/products_qpl/series.asp?o=4&a=8&c=12&sc=80&s=MLP1812LevelT

o MLP8527-T: www.gowanda.com/products_qpl/series.asp?o=4&a=8&c=12&sc=80&s=MLP8527LevelT

All three MLP series utilize high-resistivity, high-saturation ferrite cores, have an operating temperature range of -55°C to +130°C, and are available in tape and reel packaging. Internal connections utilize high melting temperature solder while external terminations are coated with a tin (Sn) lead (Pb) alloy containing more than 3% lead (Pb).

For more information regarding design details, pricing, delivery, or application-specific variations please contact Gowanda Electronics at USA 716-532-2234 or sales@gowanda.com .

Additional Gowanda Website Links:

o MLP Series Overview: http://www.gowanda.com/products_qpl/power_surface_mount.asp

o QPL Status Chart: www.gowanda.com/technical_library/qpl_progress.asp

o Environmental Testing Capabilities:
http://www.gowanda.com/capabilities/environmental_lab.asp

o News Releases: www.gowanda.com/company/news.asp

QPL Information - Defense Logistics Agency:

o General Information: www.landandmaritime.dla.mil/

o MIL-PRF-27: www.landandmaritime.dla.mil/Programs/MilSpec/listdocs.aspx?BasicDoc=MIL-PRF-27

Gowanda Electronics (www.gowanda.com) is a privately held company that designs, manufactures and supplies precision electronic components for RF and power applications. Components include standard off-the-shelf and custom-designed inductors, chokes, conicals, toroids, and other surface mount devices that are used in a wide variety of electronic applications. Gowanda's products are used primarily by OEM companies and other entities interested in high performance electronic component solutions for the equipment and devices they manufacture. Applications include use in test & measurement equipment, medical & diagnostic equipment/devices, industrial automation & control equipment, and instrumentation. These products are used in a broad range of industries, including process & assembly industries, aviation/aerospace, defense, telecommunications, health care, data processing, security and education. Gowanda's customers include Fortune 500 companies and other significant players in these global markets. The company is certified to AS9100, ISO9001 and ISO13485 quality management standards, is ITAR registered, and offers RoHS-compliant products as well as lead-containing components for QPL military/defense and other demanding requirements.


More from Architectural & Civil Engineering Products