Goodhart Sons, Inc. Continues To Expand Upon Their Safety Programs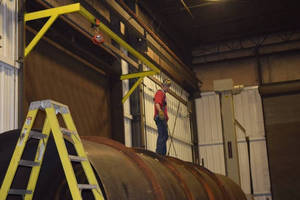 Goodhart Sons Inc., a 79-year-old non-union ASME code shop, industrial fabricator and erector serving both domestic and international clientele, continues to demonstrate their commitment to workplace safety and health.



Steve Weisser, the Safety Health Manager at Goodhart Sons, Inc., has recently taken and successfully passed OSHA Safety Certification Course #500. This 30 hour course covered OSHA policies, procedures, and standards, as well as construction industry safety and health principles.The training was completed thru the United States Department of Labor, Mid Atlantic OSHA Training Institute Education Center



"At Goodhart Sons we have seen and continue to see major changes with regard to safety", said Weisser who had previously completed the OHSA 510 - 10 hour course. He went on to state, "Major steps have been taken to enhance the safety culture at Goodhart Sons and the completion of these courses are just a part of it."



In the past year Goodhart Sons, Inc. has revamped their safety program and specifically tailored them to meet the requirements of their fabrication shops and their installation travel teams.



One of the changes they have made is the Stop Work Empowerment Program. This gives any Goodhart Sons employee, regardless of position in the company or level of seniority, the authority to halt work on any project if they identify unsafe work situations. Work will resume only when the unsafe situation has been resolved.



"We as a company made every employee responsible for the end result of a changed safety culture and having the thought process that every injury, accident or near miss should have been prevented", according to Weisser.



Goodhart Sons, Inc. is a fully equipped steel fabricator and installer located in Lancaster, PA. with more than 175,000 square feet of production space. They are ASME Section VIII, Division I board certified in possession of their R, S and U stamps as well as an AISC Member.



Goodhart Sons, Inc. also employs millwrights, riggers, welders, pipefitters, electricians and insulators that travel the country and abroad to install the projects that they fabricate as well as many types of OEM equipment and production lines. Goodhart Sons, Inc. has the experience, knowledge and resources to plan and execute complicated shut-downs.



More from Electronic Components & Devices