GlobTek Offers a Cord Management Clip for all International Types of Power Cords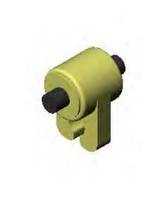 GlobTek offers a cord management clip for use on all country power supply cords or cordsets which require to clip the mains plug to the cord coil for neat storage. A typical application of this would be in household and industrial appliances.
Such a cord clip can be added to a majority of GlobTek standard power supply cords, such as these standard cords.
GlobTek manufactures power supply cords, which are alternatively known as power cords, line cords, mains cables, cord sets, or wire harnesses. GlobTek offers standard and custom cord sets which are detachable from both the power supply and the electrical equipment, and consists of a flexible cord with electrical connectors at either end, one male, and one female (such as IEC 60320 connectors) or sometimes only with 1 end or no ends terminated. Power cables may be either fixed or detachable from the appliance. The female connector attaches to the piece of equipment or appliance while the male plug connects to the electrical receptacle or outlet. GlobTek offers male plugs for most NEMA styles for North America as well as most popular international plugs. Popular NEMA options are the NEMA 1-15P, NEMA 5-15P, NEMA 6-15P, NEMA 5-20P, NEMA 6-20P, NEMA L6-20-P, NEMA L14-20P, NEMA L-15-20P, and also popular 30A and 50A plug styles. IEC 60320 connectors are available in C1, C5, C7, C13, C14, C15, C17, C19, and C20 configuration. International cords are available with plug type A and plug type B plugs for North America, Type C plug, Type E plug, and Type F plug for Europe, Type D plug for India, Type G plug for the UK and Ireland, Type H plug for Israel, Type I Plug for Australia and New Zealand, Type J plug for Switzerland, type K plug for Denmark, Type L plug for Italy, Type M plug for South Africa, Type N plug for Brazil, and type O for Thailand. GlobTek manufactures power cords in an infinite number of colors, lengths, and terminations. For any specific configuration, please contact GlobTek.
More from Controls & Controllers