Glacier Announces Use Of GX 1000 Rugged Computer With Forklift Battery Changing Station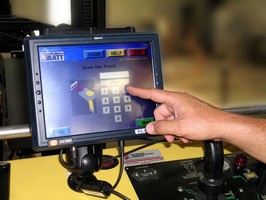 New System Offers Extensive Data Collection Capabilities

Glacier Computer, a leading designer, developer, and supplier of rugged industrial PC-compatible devices, announces the use of its GX 1000 touchscreen computer and PSLR 1000 Bar Code Scanner with Materials Transportation Company's EBatt forklift battery changing station.

All EBatt systems use the Glacier GX 1000 touch screen computer and the Glacier PSLR 1000 scanner as their primary input and output devices for the battery room user of the system. Glacier's GX 1000 establishes a new benchmark for industrial computers by offering a comparable feature set at a dramatically reduced cost. The PSLR 1000 laser Scanner is specifically designed to meet the demands of tough industrial applications.

EBatt systems are a series of motive power asset control and monitoring systems. Manufactured by the Prophecy Division of Materials Transportation Company, EBatt systems are designed to provide companies with complete control of their battery rooms.

The user-friendly systems guide personnel through the entire battery room transaction, including providing information on which battery is ready for use. EBatt translates all data collected during battery room transactions into a comprehensive, extensive suite of reports. The reports can be viewed by management anywhere in the company in their preferred format.

About Glacier Computer

Glacier Computer designs and develops versatile, rugged industrial computer systems for harsh environments in a variety of markets, including LTL crossdock, distribution, warehousing, manufacturing and more. With its in-depth knowledge and experience in the industrial computing arena, Glacier takes pride in its ability to provide quality products and exceptional customer service to meet customers' needs. For more information about Glacier Computer's GX-Series, Kodiak Series or other products, please contact John Geary at (603) 882-1560 x. 12, email johng@glaciercomputer.com, or visit www.glaciercomputer.com.

More from Machinery & Machining Tools