Get an XLERATOR with a Special Image or Logo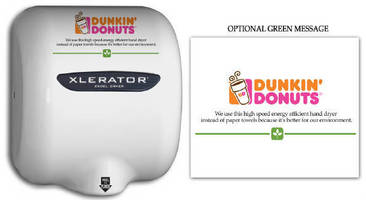 Newton Distributing offers a large selection of XLERATOR cover choices from their inventory. These units generally ship the same day they are ordered which allows for extremely fast lead times. Many companies may not want the generic white hand dryer though. The white XL-BW XLERATOR is a durable color-thru cover that is modern and sleek for any restroom, but some people may want to be different. The XL-SI XLERATOR allows you to put your choice of special image right on the cover of the hand dryer. That means if you have a logo you want to show in your school or business restroom, it can easily be imprinted on the unit direct from the manufacturer.



Stickers can be peeled off, so the process Excel Dryer uses allows for the image to permanently be wrapped around the cover. This means that your image or logo will stand the tests of time and cannot simply be peeled off. Choosing an XL-SI XLERATOR Hand Dryer is a great way to market your company and brand even in the restroom. Everyone uses restrooms and the XLERATOR dries hands in only 10 to 15 seconds. That 10 to 15 seconds is plenty of time to stand still and see your brand name, that is all it takes for a customer to remember you. So if you are a business, having your company logo on the restroom XLERATOR may lead to a customer remembering you for future sales.



Many of our customers who purchase special image dryers have the XLERATOR benefits printed right on the cover. Underneath their logo, they generally will have the facts about how many trees are saved versus one ton of paper towels. By providing information about how the XLERATOR has become GreenSpec approved, customers are educated while drying their hands. Teaching customers allows them to know that you care about the environment. This is beneficial to you, the customer and the environment. So choose the smarter choice and trust the XLERATOR to help save you electricity and money. Plus the costs versus paper towels can be up to 95% in some cases, that is a huge savings.

More from Sensors, Monitors & Transducers