Galaxy Control Systems Offers Access Control Benefits for Education Beyond the Conventional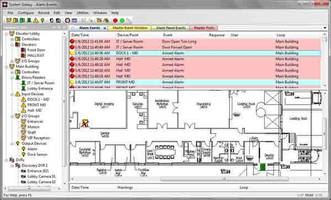 System Galaxy v.10.4 Enables Innovative Applications to Track Student Movement



Dubai, UAE – At this year's Intersec trade show and convention, Galaxy Control Systems is featuring the unique capabilities of its powerful access control software platform specifically for use in K-12 schools. The company's successful System Galaxy v.10.4 solution delivers more highly integrated and scalable access control capabilities to maintain awareness of student movement around the facility, enhance visitor management and improve overall security.



"Our System Galaxy access control platform provides the unparalleled processing power and versatility to provide new and more effective ways to monitor student movement and improve overall security in schools," said Robert Laughlin, President, Galaxy Control Systems. "The power of System Galaxy's core processing engine allows us to deliver unique and specialized capabilities such as "Hall Pass" that provide a highly cost-effective solution for very commonplace and longstanding issues in K-12 environments."



In addition to implementing superior access control, visitor management and video integration capabilities, K-12 schools can apply System Galaxy's Hall Pass feature to easily keep track of students when they leave a class in session to visit the restroom, nurse's office or any other internal or external area of the school. Here's how it works: teachers are provided proximity devices that they issue to students in lieu of conventional hall passes. Through the placement of access readers in the classrooms and at all entrances to the main school building, students are monitored with a predetermined amount of time to walk from their classroom to an approved destination.



If a student fails to report in the allocated time period, the system issues a general alert. Hall Pass is an example of how System Galaxy can be easily programmed to provide an effective solution outside of traditional security system models. Other applications may include verifying time and attendance for personnel, tracking access to equipment rooms and supply areas, and tracking transportation arrivals and departures.



"The power of our System Galaxy solution optimizes efficiency and expands functionality to deliver solutions for specific applications like those required in the education vertical," added Mr. Laughlin. "The enhanced versatility and customization capabilities of System Galaxy provide an opportunity for innovation and competitive differentiation beyond conventional security applications and environments."



To contact Galaxy Control Systems call 800-445-556 or email custserv@galaxysys.com.



About Galaxy Control Systems



Galaxy Control Systems, a privately held company headquartered in Walkersville, MD, is a leader in the integrated access control industry. The company's hardware and software solutions, all manufactured in the USA, provide access control, video surveillance, alarms, photo-imaging, badging, elevator control, building management and time and attendance for small applications, fully integrated security management systems and enterprise-class control systems. All Galaxy Control Systems products are scalable and backwards compatible, designed and engineered to deliver lower Total Cost of Ownership and a higher Return on Investment than competitive products. With unsurpassed technical support, Galaxy supports their reseller partners with free ongoing training while providing the highest levels of system implementation and maintenance. For more information on Galaxy Control Systems' extensive line of products, visit www.galaxysys.com.



Related