G&W Electric Installs First Premolded Dry Type Outdoor Terminations in Asia-Pacific Region and United States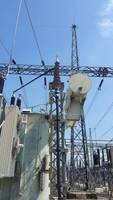 BOLINGBROOK, Illinois, Nov. 15, 2018 /PRNewswire/ -- G&W Electric recently installed the first 138kV Python® single-piece, premolded dry type outdoor terminations in Malaysia, Philippines and Ansonia, CT. To meet the growing demand for regional grid efficiency and modernization, the 138kV Python termination brings several benefits and is the first termination installed at this voltage level utilizing a mechanical shrink installation method.
"We are thrilled to have our first installation of this product in both the U.S. and the Asia-Pacific region," said John Mueller, Chairman and Owner of G&W Electric. "By installing the Python Dry Type Outdoor Terminations, we are able to bring efficient and reliable power to each region while also providing installation efficiencies. We are excited to continue to meet the growing demand around the world."
The 138kV Dry Type Outdoor Termination is a single piece pre-molded rubber body with built-in stress control electrode. For additional protection from harsh weather, the termination has weather sheds that lock out these environmental elements.
With less parts to install, no installation tools required and reduced weight, this product significantly reduces the risk of field damage, installation time, dependency on jointers along with improved overall grid efficiency. The lightweight and flexible design allow for easy vertical, horizontal or angled mounting positions.
G&W offers a variety of transmission cable accessories for extruded dielectric cable systems. Cable terminations are available for outdoor applications up to 500kV and include porcelain or composite insulator options and premolded designs. G&W cable accessories are designed to accommodate cables from all manufacturers and can be manufactured to accommodate any customer cable system.
For more information on the Dry Type Outdoor Terminations, visit www.gwelec.com.
About G&W Electric 
Since 1905, G&W Electric has been a leading provider of innovative power distribution solutions, including the latest in load and fault interrupting switchgear, reclosers, system protection equipment and distribution automation. G&W is headquartered in Bolingbrook, IL, with manufacturing facilities and sales support in more than 100 countries including China, Mexico, Canada, UAE, India, Singapore and Brazil. We help our customers meet their challenges and gain a competitive edge through a suite of advanced products and technical services. For more information on G&W visit www.gwelec.com.
Follow G&W on Twitter @GW_Electric and on LinkedIn at G&W Electric Co.
CONTACT: Scott Henry, 412-394-6646
More from Electrical Equipment & Systems