FSR Carries out "Boxes Done Right" Theme at InfoComm 2018 with Significant Expansion to Infrastructure Platform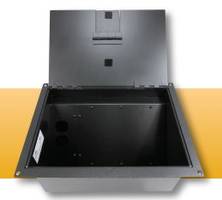 New Symphony series adds elegance to function, table and floor box covers get custom look, wall boxes go XL, floor boxes get practical, power stations get accessible, and Flex gets new features!
Woodland Park, NJ -- May 10, 2018 – FSR, a leading manufacturer of a wide variety of infrastructure solution products for the audio/video, Information and Communications Technologies (ICT), education, corporate, hospitality, and government markets, is carrying out its 'Boxes Done Right' theme with significant expansion and enhancements to its flagship infrastructure platform. At InfoComm 2018, the Company will debut its Symphony Table Box line, introduce a set of extra large wall boxes, an innovative floor box, show box covers that marry form to function, present an ultra-convenient charging option, and demonstrate dozens of new features incorporated into the popular Flex builder. All the infrastructure products will be exhibited alongside a complement of new connectors, cables, extenders, switchers and collaboration solutions in Booth C 2128.
Symphony Line Table Boxes
FSR's brand-new line of Symphony Table Boxes brings elegant form to function. Gently curved shapes allow for large cable to bulkhead AV connections while remaining faithful to the aesthetics that interior designers demand. Twelve color combinations are available to please the most discerning customers, with technical configurations that include a choice of full insert AC outlets, USB charging ports, and low voltage openings. The Symphony Line is available as a clamp on, or mounted in the table with frame and cover, or mounted under a table, shelf or chair.
PWB-320XL and 323XL Extra Large Wall Box
FSR's Wall Boxes have been supersized! The Company is introducing the PWB-320XL and PWB-323XL, larger versions of the PWB-320/323 models. These economical, large open wall boxes are designed to fit 16" or 24" on center stud bays. Audiovisual and IT installations are simplified via ample space for routing cables, AC connections, and digital media product mounting in 3" or 4" thick walls.
The PWB-320XL has up to 2" KO's, flush cable-tie mounts, 4 triple play mounting solution openings for AC/AV/IT applications and two optional adjustable locking shelves for mounting equipment. There are also optional 2 unit/3unit/4 unit internal AC power brackets that ship with SpikeShield™ 15-amp receptacles. The boxes are available in sizes to fit typical wall designs and can be used with or without the decorative trim ring and cover options.
FL-1550 Floor Box
The FL-1550 floor box provides a practical solution for power, audio and video cable termination and connection. This versatile floor box is designed to accommodate many applications including wood stages and computer floors. Its dual-door cover design allows full access when making connections, yet only leaves a small cable opening during use. The cover is manufactured from 1/8" steel plate, and painted with black sand-tex paint.
The innovative FL-1550 features a transformable box bottom with internal bracketry that can be arranged to provide numerous options for both high and low voltage applications. Additionally, the removable gang divider plate makes passing cables through the compartments and providing AC power isolation a snap. All supplied plates can easily be reconfigured at any time.
FL-200-PT Floor Box Covers
The FL-200-PT Floor Box covers are a cost-effective, versatile solution featuring a painted hinged cover with no flange. The covers are available in black, silver and brass.
CT6 and CRT6 Table Box Covers
FSR's award-winning line of T6 and RT6 Table Box solutions provide the ultimate connectivity and have been enhanced with a new elegant form to match their function. Additions include matte finish anodized covers with radiused edges, aesthetically shaped doors and openings, covered control buttons and locations for system instruction on some models.
Charge-UP Charging Station
FSR is leading the charge with the new Charge-Up Charging Stations! Elevating convenience to a new level, these stations can charge up to eight mobile devices simultaneously and include a cable assortment comprised of three Apple Lightning, three Micro USB and two USB Type-C cables. The cables can deliver up to 2.4A each, with efficient charging technology that includes authentication of nearly all mobile devices. The unit features an 18" wide by 1" deep tray to accommodate a wide range of devices. A 6' AC cord provides power from a standard 125VAC 15A outlet. Charge-Up Charging Stations are designed for indoor installation and are shipped as an easy-to-assemble kit. They are available as floor stand units or wall mount models, and can be customized with logos upon request.
Flex Builder - New Features
The Flex Control builder features an easy-to-use method to get the most out of FSR's FLEX Control System with its drag 'n drop programming methodology. New for InfoComm 2018, FSR has added dozens of new features to add functionality, further enhance set-up configuration, simplify ease-of-operation, and increase command capabilities. A sampling of the new features include: built-in Flex panel remote viewer; view and press on the actual panel graphic for remote testing and support; device command checking and direct control; advanced user privileges to find all Flex panels on a network; review and update firmware versions individually, in groups or on all Flex panels; download new projects individually, in groups or on all Flex panels; and send commands to any Flex on the network. There are more, but too many to list!
About FSR
FSR, established in 1981, manufactures a wide variety of signal management and infrastructure solutions for the AV/IT, Information and Communication Technologies (ICT), corporate, education, hospitality, government, and religious markets, including floor, wall, table, and ceiling connectivity boxes and wireways, as well as a full line of interfaces, distribution amplifiers, matrix switchers, seamless scaling switchers and HDBaseT signal delivery solutions. FSR offers live 24/7 technical and sales support throughout the country from expertly trained technicians and sales representatives. The Company is also an HDBaseT Alliance Adopter Member. For more information: www.fsrinc.com.
FSR Contact: Jan Sandri
973-785-4347 • sales@fsrinc.com
Press Contact: Desert Moon Communications • Harriet Diener
845-512-8283 • mailto:harriet@desertmoon.tv
More from Fluid & Gas Flow Equipment