FSM Awarded New 5-year Contract with Washington Metropolitan Area Transit Authority (WMATA)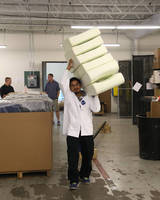 Milford, DE – First State Manufacturing announces that they have been awarded a new 5-year contract with Washington Metropolitan Area Transit Authority (WMATA) to provide continuous refurbishment of rail car seating for their transit system.



"WMATA runs six lines through 91 stations over 117 miles of track and has over 1100 cars in its inventory," said CEO and President Dave Hitchens. "When they explored privatizing this process in 2011, First State worked to reverse engineer every seat on the line and created drawings and processes standardizing the seating requirements throughout the fleet; ensuring each seat meets with the strict standards established by Washington Metro."



"We worked hard on the front end of this business" commented Vice President of Marketing, Scott Crothers. "Every seat that comes through our manufacturing facility has already been through our hands at least once before and production knows exactly how to handle the manufacturing and expedite shipment back to our partners.  We are excited to have this opportunity to continue this long term partnership."



First State Manufacturing is an award winning company and is one of the most successful manufacturers of its size in the nation, manufacturing products which include carpet refurbishment; mass transit seating, V22 Osprey aircraft seats, plugs and covers; C130 cargo aircraft seating solutions; C5 aircraft refurbishment; missile and truck covers and pharmaceutical supplies.   First State Manufacturing has earned a reputation for providing solutions that solve the challenges its customer's face, while continuing to grow manufacturing jobs in Sussex County, Delaware.



To learn more about First State Manufacturing, go to www.FirstStateMfg.com, or contact 302-424-4520.



More from Thermal & Heating Equipment