Freudenberg's Levitex® Technology Revolutionizes Automotive Engine Seals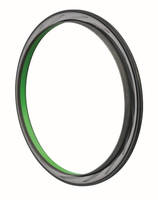 Visitors are welcome to visit Freudenberg-NOK Sealing Technologies in booth #1229 at the SAE World Congress April 12-14 in Detroit.



Plymouth, Mich. - U.S. fuel efficiency standards will nearly double between 2012 and 2025, and Freudenberg's Low Emission Sealing Solution (LESS) components can help vehicle manufacturers meet these strict new limits while introducing cleaner, more efficient vehicles to their customers.



As OEMs push to meet a government-mandated fleet average of 54.5 mpg by 2025 – and even stricter limits in Europe – every component, including seals, needs to play a significant role in achieving industry success. Freudenberg's portfolio of LESS products include components that reduce friction losses in conventional drive systems, aid in optimization of the combustion process, support downsizing and the start-stop systems and enable overall weight reduction.



Freudenberg-NOK Sealing Technologies will highlight a variety of LESS products at the SAE 2016 World Congress at Cobo Center in Detroit, April 12-14.  At the heart of this powerful portfolio is the company's Levitex® technology.



"We are gratified to have our Levitex seals on display at this year's SAE World Congress," said Matthew Chapman, Global Director of Marketing, Automotive, Freudenberg-NOK. "We invite all of our customers to stop by our booth to experience this remarkable technology, as well as a wide variety of other LESS components that have all been designed to address our customers' most challenging emission, performance, weight and fuel economy requirements."



The Levitex crankshaft seal is a revolution in engine seals. This gas lubricated face seal functions with a cushion of air reducing both fuel consumption and CO2 emissions by as much as 1 gram per kilometer driven. A 1.0 g reduction in CO2 emissions is the equivalent of approximately 0.2 mpg savings in gas for a vehicle rated at a 33 mpg.



At its core, a Levitex seal consists of two rings, one of which is firmly attached to the crankshaft and the other to the housing. One of the rings has specially designed grooves that are just a few micrometers deep. When the crankshaft rotates, the air is dragged against the sealing dam that encloses the grooves. The grooves taper to a closed tip and thus produces a cushion of air that separates one sealing surface from the other. This stable air gap creates a nearly frictionless seal for the engine.



Until now, gas-lubricated face seals were exclusively used in major industrial facilities. In transferring such key technology from one industry to another, Freudenberg-NOK has produced a patented seal for the internal combustion engine that operates in extreme temperatures ranging from -40 to 150°C  (-40 to 302°F), is impervious to dust and water and can be easily installed in today's increasingly smaller, more powerful engines and powertrains. Levitex seals also operate efficiently under increased engine pressure and vacuum conditions.



In addition to Levitex seals, Freudenberg-NOK will also display a range of LESS products at the SAE World congress, including accumulators, PEEK bearings, Plug Seals plug connectors and curve gaskets. Freudenberg's LESS portfolio will be on display at booth 1229.



Media Contacts:

Cheryl Eberwein, Director, Media Relations

Office: +1 734 354 7373

E-Mail: cheryl.eberwein@fnst.com



About Freudenberg-NOK Sealing Technologies

Freudenberg-NOK Sealing Technologies runs the operative business of Freudenberg Sealing Technologies (FST) in the Americas. Being part of the global Freudenberg Group, the company is a leading producer of advanced sealing technologies for a variety of markets including: aerospace; agriculture; appliance; automotive; construction; diesel engine; energy; food and beverage; heavy industry; and pharmaceutical. Freudenberg-NOK Sealing Technologies is a joint venture between FST and NOK Corp. in Japan, is headquartered in Plymouth, Mich. and operates more than 20 facilities across the Americas. For additional information, please visit www.fst.com.

Related