FreeZone® Stoppering Tray Dryer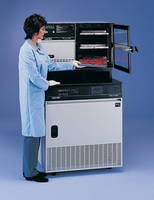 The Labconco FreeZone® Stoppering Tray Dryer for use with Labconco FreeZone 6, 12 and 18 Liter Freeze Dry Systems, has three shelves suitable for batch or bulk product lyophilization. A built-in stoppering mechanism pneumatically stoppers containers on all three shelves under vacuum.

The user-friendly control panel with LCD provides continuous indication of system and probe temperatures in ºC or ºF and vacuum in mBar, Pa, or Torr. Warning lights alert operator to power failure, temperature fluctuation, or vacuum decay. A microprocessor-based controller permits up to 5 different temperature programs to be stored and repeated, each using as many as 5 different segments. A cable connection port allows communication between the Stoppering Tray Dryer and the microprocessor of the Freeze Dry System, which is advantageous for automatic start up and data recording.

Samples may also be pre-frozen directly on the shelves. Temperature of fluids circulating through channels in the shelves may be set between -40ºC to +40ºC.

A microprocessor maintains system temperature within ±1º C of set point. The refrigeration system contains no ozone-damaging chlorofluorocarbons (CFCs).

For more information on the complete line of FreeZone Freeze Dry Systems and accessories, call Labconco Corporation at 800-732-0031 or download the PDF brochure at www.labconco.com.


More from Agricultural & Farming Products