Free Lifetime Calibrations Now Included with Heat Spy Inspector Thermal Imagers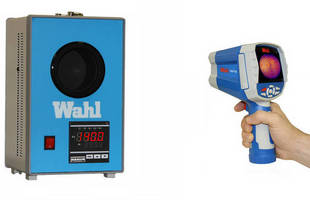 Asheville, NC - Wahl Instruments, Inc. is pleased to introduce another first in the thermal imaging industry - free annual calibrations - now included with the purchase of Heat Spy Inspector Series thermal imaging cameras - a $250 value. Return your Imager to Wahl annually for free recalibration and firmware updates for the life of your Heat Spy. Maintain the calibration of your instrument to ensure you're getting consistent, quality temperature readings at all times. Wahl offers free calibrations with quick turnaround times to minimize any interruption to your business, while allowing you to maintain the measurement integrity required for ISO certification. Heat Spy units are calibrated at our Asheville, NC factory using NIST Traceable equipment. These standard calibrations are offered to customers FREE - a $250 value each year. NIST certified calibrations are also available. Heat Spy firmware updates are included with all calibrations, to ensure your Heat Spy always has the latest features and capability.

Wahl Heat Spy Thermal Imaging cameras are offered by Wahl Instruments, Inc. domestic and international distribution network.

For additional information please contact us at sales@palmerwahl.com or call 1-800-421-2853, fax 828-658-0728. Write to Palmer Wahl Instrumentation Group, 234 Old Weaverville Road, Asheville, NC 28804. Visit our web site at www.wahlheatspy.com.

About Palmer Wahl Instrumentation Group Palmer Wahl Instrumentation Group, with more than 176 years of continuous product innovation, started as America's first thermometer company in Cincinnati, OH in 1836. Since that time, Palmer Instruments has steadily evolved through product development geared exclusively towards industrial process measurement, test and calibration. Operating from a modern facility in Asheville, NC since 1987, and acquiring Wahl Instruments, Inc. in 1997, Palmer Wahl Instrumentation Group is uniquely qualified to provide application/technical support, calibration services and product selection from an extensive line of the finest instrumentation products. For more information, visit www.palmerwahl.com.


More from Chemicals & Gases