Free Demo Trial of the Red Power Pusher that's Really Green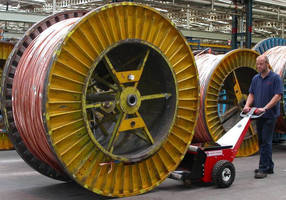 Use a Power Pusher free for two weeks if you are a qualified user. Find out first hand if the Power Pusher is right for your material handling applications.

If it rolls....we can move it.

Shakopee, Minn. - NuStar, Inc. is now offering a free two week trial demo of the new and improved Power Pusher pedestrian-operated, battery-powered pusher. Unlike forklifts or other ride-on equipment, the Power Pusher runs on batteries so it does not consume $4 per gallon gasoline, diesel or propane; and, it does not emit any harmful exhaust or fumes. It is significantly less expensive than a forklift and operators do not need a license. It comes with a built in battery charger that plugs into a standard outlet. With a footprint less than two square yards, the Power Pusher is easily stored at a jobsite and is easy to transport from site to site. One person can use the nimble Power Pusher to efficiently and safely push, pull and maneuver wheeled loads up to 150,000 lbs., or those with high rolling resistance.

To demo a Power Pusher, you simply submit a conditional purchase order to receive the unit for trial. NuStar, Inc. will ship the unit to you via common carrier, and you are responsible for the return freight if the unit is not purchased. After your two-week demo period, you decide to purchase or return the unit. If you decide to purchase the unit, a purchase order must be issued to NuStar, Inc. for the machine and the freight charges. All units are sold F.O.B Shakopee, MN. To see if your company qualifies for a free two-week demo, call or email John Adams at NuStar, Inc. at jadams@nustarinc.com, or call him at 800-800-9274.

See applications of how the Power Pusher has solved material handling problems for our customers. View videos. The Power Pusher increases productivity by reducing the number of employees needed to move heavy objects. It also creates a safer work environment by reducing the risk of injury and by keeping the load under control.

Invented in the 1960s for pushing immobilized vehicles, the Power Pusher is an ideal choice for many harsh and hazardous situations where you need to push or pull wheeled loads. Industries using the Power Pusher include railroad, construction, utilities, heavy machinery, automotive, trucking, paper, hospitals and other manufacturing sites. One person can maneuver and move heavy cars, carts, machinery, instruments, hospital beds, trolleys, racks, drums, pallets, containers and more. The soft touch control allows smooth and accurate maneuvering so even delicate breakable loads move easily and safely.

Reduce the risk of back injury while improving your productivity. Let us show you how the Power Pusher can pay for itself in less than year and help you determine which Power Pusher model and options are best for you.

Accessories and attachments include hitches, tow bars, strobe, motion beeper and push plates. Custom options make the Power Pusher meet your exact needs!

About NuStar, Inc.

Headquartered in Shakopee, MN, NuStar, Inc. is a privately-held corporation specializing in the design, manufacture, marketing and sale of pedestrian-operated, battery-powered pushing and tug units for pushing, pulling and maneuvering an incredible range of wheeled and semi-wheeled loads. With over 23,000 units sold since 1964, we are ready to handle any type of material handling needs you have. For more information, visit: www.powerpusher.com.

Related