Forrest Manufacturing Offers a Full Line of Quality Nonferrous Saw Blades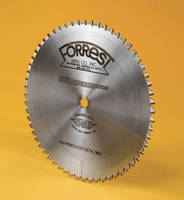 These strong, corrosion-resistant blades are ideal for cutting copper, aluminum, and brass. They produce precise, burr-free cuts that eliminate the need for filing.

CLIFTON, New Jersey - Forrest Manufacturing provides a wide selection of circular saw blades for cutting nonferrous metals such as copper, aluminum, and brass. These blades are available in a choice of diameters and with tooth counts suitable for light and heavy wall tubes, extrusions, and plates.

In discussing his company's line of nonferrous saw blades, Vice President Jay Forrest says, "We currently offer nineteen of these special-purpose blades and can also accommodate custom orders. Although most of the products our company manufactures are for wood applications, we're proud to have a full complement of blades for use on metal plates, extrusions, tubing, frames, rods, window sashes, and so forth. These blades are suitable for all types of metal-working saws. You get excellent results whether you are using a table or chop saw. In addition, our nonferrous saw blades are competitively priced and can be relied on for the same high performance and dependability that customers expect from all Forrest products."

Precise, Burr-Free Cuts Without Filing

Vice President Forrest goes on to say, "We've based our line of metal-cutting blades on our popular and very precise Miter Master blades that do such an exceptional job of cutting aluminum. So you can confidently depend on all of our nonferrous saw blades for smooth, polished, exact cuts. Burrs are eliminated. There is no need for filing."

Forrest's nonferrous blades can be ordered in various diameters from 5 3/8" to 20" and with teeth counts ranging in number from 50 to 120. The most popular of these blades are the NF1060 (10" diameter with 60 teeth, listing at $140), the NF1080 (10" with 80 teeth, listing at $168), the NF1280 (12" with 80 teeth, listing at $178), and the NF12100 (12" with 100 teeth, listing at $203)). Several of the 14"- diameter blades are also very popular.

In explaining the significance of the tooth count, Mr. Forrest says, "If the metal sheet or tube you are cutting is thin, it is advisable to use a blade with more teeth. For example, we recommend blades with 80 teeth for cutting nonferrous materials of 3/16" or less. In cases of plates, frames, or other materials that are ¼" to ¾" inch thick, we recommend 60 teeth. Our nonferrous saw blades typically come with a #2 TCG tooth configuration and a -5˚ hook. However, customers can specify an ATF configuration with a +5˚ hook angle for use on thicker stock and solid plate."
These nonferrous saw blades come with SPS plugs and are fairly quiet to operate. They should be used with oil or wax lubricants.

Built-In Quality and a 30-Day, Money-Back Guarantee

Forrest's line of nonferrous saw blades are made of strong, corrosion-resistant C-2 micrograin carbide. This gives them up to a 300% longer life between sharpenings, compared to other carbide blades. The blades are hand-straightened to ensure perfect flatness and have exceptional perimeter concentricity and side runout of +/- .001. The company also offers state-of-the-art factory sharpening of all brands of carbide-tipped circular saw blades at a very reasonable price. In addition, all Forrest blades come with the company's 30-day, money-back guarantee.
American-Made and Backed by Superior Service

Forrest Manufacturing is a family-owned business. It proudly continues to produce all of its blades in the U.S.A. at a time when most other companies are moving their production facilities to Asia or Europe.

Since its founding in 1946, Forrest has been dedicated to serving the needs of woodworkers and serious hobbyists. Over the intervening decades, it has earned a well-deserved reputation for innovation and leadership. Many of Forrest's current employees have been with the company for 20 years or longer. But no matter their longevity or position, they maintain a strong commitment to quality workmanship and to providing the very best in courteous, knowledgeable customer service.

In addition to its impressive line of nonferrous saw blades, Forrest offers a wide variety of other custom and specialty blades. These include its Signature Line Chop Master, Finger Joint Sets, Duraline Hi-A/T, and Concave Face blades. Forrest's two most popular blades, the Woodworker II and the Dado King, have received numerous awards and recognition from industry experts who regularly test and review saw blades for quality of cut and cost-to-value ratio.

Forrest blades are available from fine-quality dealers, retailers, and catalogs, as well as direct from the factory. For more information, call 1-800-733-7111 or visit www.ForrestBlades.com.

Forrest Manufacturing produces a wide selection of nonferrous saw blades for cutting copper, brass, and aluminum. Made of strong, corrosion-resistant C-2 carbide, these blades produce precise, burr-free cuts. They deliver excellent results on table or chop saws and come with Forrest's 30-day, money-back guarantee.


More from Material Processing