ForeverSafe Burial Urns and Cemetery Vases Launched at Catholic Cemetery Conference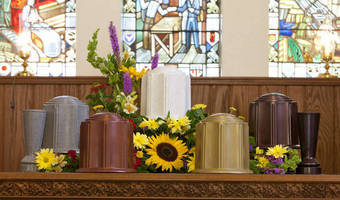 ForeverSafe(TM) Products Burial Urns and Cemetery Vases participated in its debut exhibit at the Catholic Cemetery Conference in Washington D.C. September 24-28. A large portion of the product line of burial urns and cemetery vases was on display. They were one of many manufacturers on display for representatives of cemeteries from across the nation.

ForeverSafe(TM) Products is a line of high quality, American made, theft deterrent burial urns and cemetery vases. They are available in eight different granite and metallic finishes. ForeverSafe(TM) Products are manufactured by means of rotational molding, using polyethylene materials, which has a long life span and is extremely durable, but is of not intrinsic value to a thief.

ForeverSafe(TM) Burial Urns are a reasonable priced alternative to metal or granite urns with an even greater lifespan and durability. Impervious to the elements, water tight and able to handle great pressure without being compromised ForeverSafe(TM) provides the comfort of protection anywhere it rests. ForeverSafe Cremation Urns are beautiful for memorial services or for display in a niche or in the home. Unlike other materials or urns, Foreversafe(TM) Burial Urns can be buried directly in the ground without an additional vault in many cemeteries which was seen as a great benefit to many of the attendees.

ForeverSafe(TM) Cemetery Vases are available as a replacement vase with a custom cut plate to fit any manufacturer's canister or as a complete vase and canister set. Many cemeteries are experiencing a high rate of theft of metal vases. Many of the Catholic Cemetery representatives who visited the booth expressed the need for reasonably prices high quality replacement vases because of this.

ForeverSafe(TM) products are designed to have the beauty and durability of metal or granite with an additional layer of protection from theft.

For more information please visit www.foreversafeproducts.com or www.foreversafevases.com or contact Granger Industries directly at 513-424-1955. Granger Industries includes ForeverSafe, Granger Aerospace Products and The Granger Plastics Company, a world renowned rotational molding company located in Middletown, OH. You can learn more about Granger Industries by visiting www.grangerindustries.com.


More from Electronic Components & Devices