Foamlinx Announcing Major Production and Equipment Expansion to Benefit Props, Signs and Prototyping Industries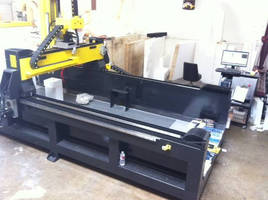 Sunnyvale, CA – Foamlinx LLC, A California based company designing and manufacturing CNC foam cutters announces its plans to expand its production and equipment to serve larger variety of industries. The expansion plan involves a recent purchase of a 5'x10'x3' and 8'x16'x4' CNC router machines. The company plans to acquire more routers sizes in the near future, additional large 3D printers as well as a new line of CNC sign cutters, all supplied by Spring 2016.



The new large CNC router that was added to the company's equipment is able to machine materials up to 4ft high in a single layer, eliminating the need to create the product in section and having to glue them together. This router is a great addition to the routers already used in Foamlinx production.



These routers are able to machine different types of foam, such as EPS, XPS, EPP, EPE, EVA, RenShape and high density polyurethane, tooling foam, as well as plywood, hard wood, MDF, plastics, acrylics and even soft metals (aluminum, brass and bronze).  The router will mostly be used to create large props and for large prototyping.



"Our CNC routers all include computer, monitor and software, dust collector and milling tools up to 12" long by 2" diameter" commented Tal, Foamlinx LLC owner "What is special about our routers is the fact that they come with a quick tool changer that enables us to change tools quickly, thus shortening production time and saving money. This is a cost effective high performance foam cutting system"



James Piazza, Foamlinx Production Manager says that the company keeps renovating and innovating its equipment and its product lines to better accommodate and serve more industries. The company is currently working on a new line of high quality effective cost sign cutters. According to Tal, The machines will be available in three sizes – A smaller sign cutter 24"x12"x6", a medium 32"x20"x8" and a larger machine 100"x48"x30", providing solution to any sign shop. The new sign cutters line will be release by spring 2016. In addition, the company purchased several sizes of 3D printers that will serve companies looking for prototyping services prior to mass production. This equipment expansion will build Foamlinx brand, scale its business opportunities, and grow more traffic and revenue while maintaining its equipment and service quality and integrity.



About Foamlinx LLC

Foamlinx LLC, established in 2001 is a designer and manufacturer of CNC foam cutting machines including CNC hot wire foam cutters and CNC routers sold worldwide. The foam cutters cut and machine EPS, XPS, EPP, EPE, EVA, RenShape and high density polyurethane, tooling foam, as well as plywood, hard wood, MDF, plastics, acrylics and even soft metals. The machines are used by a wide variety of industries including architecture, construction, insulation, signs, props, packaging, sculptures, hobby models, theme parks, universities, aeronautics, and aerospace. The company also provides foam cutting, machining and prototyping services. Visit www.foamlinx.com and www.wecutfoam.com for more information.