Fluoropolymer Materials from AGC Chemicals Improve Performance and Aesthetics of Stadium Roofs and Facades Worldwide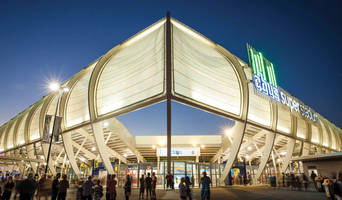 EXTON, Pa., November 11, 2019 — Fluon® ETFE film and Fluon® PTFE for architectural fabrics from AGC Chemicals are used in stadium constructions around the world to provide stylish exteriors that can resist UV light, water, wind, chemicals and other harsh conditions. Fluon ETFE film is used in membrane structures, architectural facades and roofing. Fluon PTFE is used to coat glass cloth and other fabrics for large roofing areas.
 AGC Chemicals will feature these materials at Soccerex USA in Miami, November 21-22, at the JW Marriott Miami Turnberry Resort.
Fluon ETFE film has been used in some of the world's most creative architectural designs because it allows for lightweight, movable shell structures, brilliant illumination, energy efficiency, climate control and sunlight transmission. It is an ideal building material for facades and roofs because it is durable, flexible and semitransparent. Fluon ETFE film is made of a thermoplastic fluoropolymer, so it weighs much less than glass. It also features nonstick, insulation and antifouling properties, as well as resistance to heat, chemicals and weather.
Fluon PTFE is ideal for treating architectural fabrics used in large roofing areas and similar structures where all of the membrane panels are held in place under tension. These fabrics filter light, cut down on glare and provide broad illumination to large interior spaces. Aesthetically, Fluon PTFE material enables structures to provide dramatic and colorful illumination. These chemically inert, highly translucent resins provide performance advantages including UV resistance, weatherability, strength, durability, and water, wind and stain resistance.
Fluon ETFE film is used in:
Allianz Arena (Munich)
Forsyth Barr Stadium (New Zealand)
Baku National Stadium (Azerbaijan)
Singapore Sports Hub (Singapore)
Fisht Stadium (Sochi, Russia for the 2014 winter games)
Itaipava Arena Pernambuco (Brazil for the 2014 FIFA World Cup)
Tottenham Hotspur Training Centre (UK)
Fluon PTFE is used in:
Red Bull Arena (New Jersey)
Estadio Jose Pinheiro Borda (Brazil)
Cbus Super Stadium (Australia)
For more information, visit AGC Chemicals at Soccerex or www.agcchem.com.
About AGC Chemicals Americas Inc.
AGC Chemicals Americas is a wholly owned subsidiary of AGC Inc., a $13.6 billion multinational corporation and one of the world's largest manufacturers of glass, electronic displays and chemical products. The company was formed in 2004 through the merging of sister companies Asahi Glass Fluoropolymers USA and AGA Chemicals. Headquartered in Exton, Pa., including a state-of-the-art technology center, AGC Chemicals Americas maintains manufacturing operations in nearby Thorndale, Pa., a satellite sales office in Sao Paulo, Brazil and warehouses located throughout North America. www.agcchem.com
Media Contact:
Lisa Goetz, Schubert b2b
lgoetz@schubertb2b.com
610-269-2100 x244
Contact This Company Download Spec Sheet
Related