Fluke Introduces New Family of DMMs with Special Features for Commercial Electricians, HVAC/R Professionals and More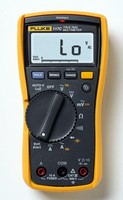 Four compact, rugged, true-rms meter models for specific applications

EVERETT, Wash. - Fluke Corporation, the global leader in handheld electronic test and measurement technology, today announced a new family of digital multimeters including the Fluke 117 Electricians' Multimeter with non-contact voltage detection and the Fluke 116 HVAC Multimeter with temperature and microamps capability. The family of true-rms meters comprises four models, each designed to meet the requirements of specific application areas.

The Fluke 117 Electrician's Multimeter is suited for use in commercial settings such as buildings, hospitals and schools. The meter includes integrated VoltAlertTM non-contact voltage detection, a technology designed to quickly sense the presence of ac voltage - eliminating the need to carry another tool - and to determine proper grounding with a visual indicator. It also features Auto-V automatic volts detection that eliminates guesswork by automatically determining ac/dc voltage and a new low impedance input function, which helps prevent false readings due to ghost voltage.

The Fluke 116 HVAC Multimeter has a built-in thermometer and microamps measurement capability; functionality designed to help professionals quickly troubleshoot problems with HVAC equipment and flame sensors. The meter includes the LoZ function, and other features for performing a wide range of tests such as measuring superheat and subcooling, troubleshooting the defrost control on a heat pump, and taking temperature surveys.

For a complete solution, the Fluke 117 and 116 are available in combo kits. The Fluke 117/322 Electrician's Combo Kit includes the following in a soft carrying case: Fluke 117 Electrician's Multimeter, Fluke 322 Clamp Meter, ToolPak meter hanger and test leads. The Fluke 116/62 HVAC Technician's Combo Kit includes the Fluke 116 HVAC Multimeter, Fluke 62 Mini Infrared Thermometer, Fluke 80AK Thermocouple Adapter, Fluke 80BK Integrated Temperature Probe, ToolPak Meter Hanger, Velcro® pipe clamp thermocouple and test leads - all in a soft carrying case.

Also available is the Fluke 115 Multimeter for field service technicians and the Fluke 114 Multimeter for electrical troubleshooting. All four models are CAT III 600 V safety rated, and feature large white LED backlit displays and compact design for one-handed operation.

The Fluke 117, 116, 115 and 114 Multimeters are available immediately at US list prices of $179.95 for the Fluke 117, $169.95 for the Fluke 116, $149.95 for the Fluke 115, and $129.95 for the Fluke 114. The Fluke 117/322 Electrician's Combo Kit and the Fluke 116/62 HVAC Technician's Combo Kit are available immediately for a US list price of $259.95 each. For more information on Fluke's line of DMMs, visit fluke.com/dmms/116_117 or contact Fluke Corporation, PO Box 9090, Everett, WA USA 98206, call (888) 308-5277, fax (425) 446-5116, or e-mail fluke-info@fluke.com.

Fluke Corporation
Fluke Corporation is the world leader in compact, professional electronic test tools. Fluke customers are technicians, engineers, electricians and metrologists who install, troubleshoot, and manage industrial electrical and electronic equipment and calibration processes for quality control.

More from Thermal & Heating Equipment