Fluid Simulation Reduces Extractor Hood Design Time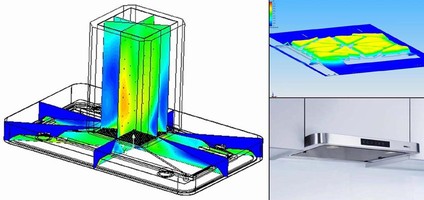 (January 8, 2008) - Marenco AG used EFD.Lab engineering fluid dynamics software from Flomerics to design a new extractor hood for one of their clients. The combined design and analysis time required only half the time it would have required in comparison to traditional engineering methods. Placed over a cooking range, extractor hoods remove grease, smoke and odors from the kitchen. They rely on a combination of a fan and a filtration system to extract and/or clean the air. The new extractor hood designed by Marenco is not only more efficient but also operates at a lower decibel-level than others. In consumer environments, a premium is placed on these extractor hoods as they create less noise. "Using EFD.Lab enabled us to develop this new product in record time and significantly reduced the number of physical prototypes we needed to test," said Hans-Peter Keel, mechanical design engineer at Marenco. "Because our team was able to develop this model so quickly our customer was able to take their product to market much faster than their competitors." The new extractor hood was introduced to the consumer market in August 2007.

Since 1997 Marenco AG has been offering innovative engineering and consulting services to companies such as Hilti AG, Roche and Bosch within the automotive, aerospace and industrial equipment industries. As a design specialist, Marenco relies on a combination of UG NX for solid modeling and EFD.Lab for computational fluid dynamics analysis. "We originally invested in EFD.Lab for a specific project. We found that it offered the same functionality as CFX or Fluent and was also much more affordable. Since then we have used EFD.Lab for many other applications," added Keel. EFD.Lab proved especially helpful in their latest project as it is extremely difficult to see inside the exhaust enclosure and how the various components interact with one another. "When you have airspeed over 9 meters per second you get a fair amount of noise. EFD.Lab helped us find the point where the noise originated so we were able to modify our design to reduce noise." Also, extractor hoods rely on a filtration system to remove smoke and fat particles from the air. "This air needs to be taken out of the room but you don't want it to pollute the extractor hood or any of the other components during the extraction process. Through simulation we predicted the most impacted area of the filter and the best geometry for the porous filter material. The simulation also helped us predict the rate at which filters would clog in normal use, and hence to inform our client that to maintain effective filtration, filters need to be cleaned every 2-3 years."

"The entire design, simulation and physical testing process took half the length of time it would have taken using traditional design processes. We always test all designs by building a physical prototype and comparing it with the simulation results but simulation helped us reduce the number of physical prototypes drastically as we were able to get reliable performance information very quickly. With EFD.Lab, I can do what I need to do faster and better by locating the critical problem areas quickly. It can be very difficult to investigate problems on a physical prototype but with EFD you can put your finger right on the problem and fix it immediately."

Interested readers may watch a free EFD.Lab online demo at www.flomerics.com/products/efd/demo.php. To learn more about Marenco AG, please visit www.marenco.ch/.

About Flomerics
Flomerics is a world-leading developer of engineering simulation software and services for analysis of fluid flow, heat transfer and electromagnetic radiation. Flomerics' business model is drastically different from traditional analysis because its software is designed to be embedded deeply into the design process and used by mainstream design engineers, not just by analysis specialists.

EFD.Lab is a trademark or trade name of Flomerics Ltd. All other products mentioned are trademarks or trade names of their respective companies.


More from Software