Flowcrete Backs China's Green Car Concept with Sparkling Sustainable Floor for New Showroom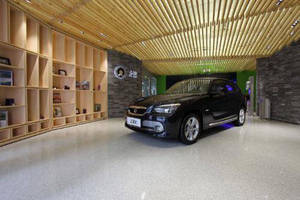 BEIJING -



BMW Brilliance - the German-Sino joint venture - has cut the ribbon on the first showroom for its pioneering electric vehicle, the ZINORO 1E.



The flagship showroom is located in a modern Beijing complex named the Sanlitun SOHO, which has been developed by Chinese real estate tycoon Pan Shiyi.



Described as the point where Chinese culture and international fashion collide, the site represents the ideal location to introduce the world to BMW Brilliance's first e-mobility concept.



Close to 200 square metres of Flowcrete China's sparkling epoxy terrazzo flooring material, Mondeco Crystal, were selected by the project architect for installation across the entire showroom in three contrasting bands of colour.



The installation of the material represented a challenging undertaking for both Flowcrete China and the company's approved application team.



A three-week turnaround in which to install the terrazzo material posed difficulties, combined with plummeting temperatures as low as -10 degrees centigrade.



Environmental temperatures are important in any application of in-situ resin floor coatings and systems. The majority of resin solutions cure best at room temperature; however fluctuating conditions are often unavoidable.



Although typically the speed of cure of an epoxy decelerates under cold conditions, it is prone to becoming stiff and can be difficult for the applicators to work.



Mondeco Crystal has been specially formulated to combat such circumstances, providing a fully workable material that poses no risk of imperfections or damage to the final surface.



The terrazzo material was specified on top of newly laid concrete exhibiting high moisture content. Flowcrete's water-free moisture tolerant primer, Hydraseal DPM, was used prior to the application of the Mondeco to prevent moisture entrapment.



Mondeco Crystal is a highly decorative system and a popular choice for retail clients looking to impress, with recent installations at both Alexander McQueen's and Emilio Pucci's flagship stores in China.



The system contains a decorative mix of crushed mirror, clear glass chippings and mother-of-pearl which, once diamond-ground, creates a smooth surface glisten.



The system offers clients environmental advantages too, containing a high percentage of recycled and natural materials, an energy-saving, easily maintained surface and an impressive lifespan way in excess of 20 years when properly cared for.



The opening of the new showroom represents an important landmark in Chinese culture, helping to increase customer understanding and acceptance of electric vehicles to drive forward their commercialisation and adoption.



Flowcrete China



Contact: For more information please visit www.flowcreteasia.com or contact Daniel Ash at Flowcrete Group's Marketing department on +44-1270-758-702 or email dan.ash@flowcrete.com.







More from Architectural & Civil Engineering Products