Automated Storage/Retrieval Systems (AS/RS)
FKI Logistex Offers Enhanced Standard Transfer Car Product Line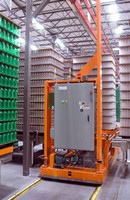 Cost-effective solution provides alternative to fixed pallet conveyor

(St. Louis, Missouri, USA: October 9, 2006) FKI Logistex® (www.fkilogistex.com), a global leader in integrated material handling solutions, announces that it has now standardized its line of transfer cars with an array of important features, further enhancing the company's industry-leading equipment offerings for pallet-load handling. Line standardization includes methods of control, power, and positioning.

Transfer cars are motorized vehicles that travel from station to station on a straight, fixed track. In many applications they provide a cost-effective alternative to pallet conveyors and right angle transfers, particularly where they can replace long stretches of fixed pallet conveyor or serve as the end-of-line conveyor for multiple production lines. They also serve facilities that require fork or clamp trucks to more easily cross a pallet conveying path.

FKI Logistex transfer cars move at speeds up to 400 feet per minute and can have multiple induction and discharge points. The units are frequently used at pallet pick-up and drop-off conveyor for automated-storage-and-retrieval systems (AS/RS), including the company's popular high-bay hybrid crane solutions, where they operate round-the-clock, potentially reducing or replacing forklift requirements.

Standard features on the FKI Logistex transfer car line start with chain or chain-driven live roller (CDLR) as the type of onboard conveyor. Both conveyor types are offered with several standard options and with weight capacities of up to 3,500 lbs. for a single-station unit or 7,000 lbs. for a dual-station unit.

Other standard features for the FKI Logistex transfer car line include a choice of one or two conveyor stations per transfer car unit; flanged wheels on flat-bar track mounted on top or flush to the floor; power to the units via bus bar; state-of-the-art laser-guided positioning; wireless Ethernet communications; onboard PLC controls; and pre-wiring and testing prior to shipment.

The FKI Logistex transfer car line is part of the company's allied group of pallet-load handling equipment. Other offerings include standard and built-to-order pallet conveyor in a range of sizes, shuttles, turntables, iron crosses, and load stackers.

For sales and marketing information, contact Jill Raab, marketing communications coordinator, FKI Logistex North America, by phone at (314) 993-4700 or by e-mail at jill.raab@fkilogistex.com.

For media information, contact David Abels, senior account executive, Koroberi, Inc. (www.koroberi.com), by phone at (919) 960-9794 ext. 22 or by e-mail at david@koroberi.com.

About FKI Logistex
FKI Logistex® (www.fkilogistex.com) is a leading global provider of automated material handling solutions, supplying its customers with an integrated set of leading-edge technologies in high-speed sortation, conveyor systems, palletizing, paperless pick products, AS/RS, controls, order fulfillment systems, RFID implementation, EDS integration, baggage handling systems, warehouse control systems, and total material handling automation.

FKI Logistex provides material handling solutions for airports, postal facilities, parcel distribution, manufacturing operations, library automation, and for warehouse and distribution facilities. With projects that include many of the world's largest and most advanced material handling operations, FKI Logistex has manufacturing, engineering and support facilities around the world. For more information on FKI Logistex, click here to visit the FKI Logistex media center. For general sales information, contact FKI Logistex by phone at +1.877.935.4564 in North America, +44 (0) 870 350 3055 in Europe, or +86 21 52372255 in Asia. Contact FKI Logistex by e-mail at info@fkilogistex.com.

Related