Five New Mill-Turn Centres from Star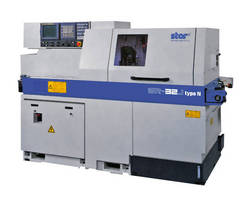 Of the nine CNC lathes on the Star GB stand this year, four sliding-headstock mill-turn centres and a fixed-head lathe are being shown for the first time ever at a MACH exhibition.

All of the multi-axis machines are designed for long periods of unmanned production and high levels of consistent accuracy. A large range of tooling options and additional equipment allow the provision of complete machining cells to suit users' specific requirements.

It is noteworthy that, although the Star range spans 10, 16, 20, 32 and 38 mm bar capacities, five of the nine lathes on show will be 20 mm machines, as this size accounts for around 60 per cent of sales in the UK and Ireland.

A new feature of the Star stand, the company's largest ever at 400 square metres, will be the inclusion of interactive audio-visual stations. A touch screen interface on each will allow visitors to interrogate a database of information on all Star sliding and fixed head lathe models and access video footage of the machines in action.

One of the new machines, the SW-20 slider with 11 CNC axes, made its European debut last September at EMO 2011. With its two tool platens in front of and behind the spindle centerline, the 20 mm capacity machine is ideal for balanced turning, milling and drilling operations from either side of the bar, making it especially useful when processing slender components that could otherwise be easily deflected.

The Fanuc 31i Model B5 control allows high speed production and improved accuracy for up to 5-axis simultaneous machining. It is on a swing-out support for easy access when the operator is working in the machining area.

An 8-station, rear facing tool post with vertical movement in Y works in conjunction with a counter spindle having X, Z and C motions to complete the most complex backworking operations during single-hit manufacturing.

The SB-20E is the most capable low-cost, entry-level sliding-head lathe to date from Star, ideal for manufacturing components of medium complexity.

The 20 mm bar machine has a four-spindle cross drilling unit, high driven tool power and lateral motion (XB) on the counter spindle in addition to its standard ZB movement along the spindle centreline. Extensive machining on the reverse of a parted-off component is therefore possible in conjunction with four back working tools.

The result is a 7-axis CNC lathe that allows scope for manufacturing more complicated parts than earlier SB models. In addition to the cross working and back working tools, there are six turning tools in the gang tool post and four tools facing both front and back in a sleeve holder. 35 m/min rapids guarantee short non-cutting times.

New also at MACH will be a smaller early-entry lathe in the SB series, the 16 mm capacity SB-16EII. It also has XB and ZB movements of the counter spindle and four back working tools. However, it differs from the larger machine in that it has two live cross working tools plus a third position. It can accept either an additional cross driven tool, or a three-spindle counterface tool for both front and rear driven tool applications, or a four-spindle drilling unit for front and back working.

The 32 mm capacity Star SR-32JN slider will be shown for the first time in recently uprated configuration with five driven cross working tools and a Fanuc 31i Model B control having an ergonomic, swing-out support for enhanced performance. The lathe does not have a revolving guide bush, greatly reducing remnant length and lowering production costs, especially when machining shorter parts.

With its six-station platen and extensive front and back working tools, the machine is capable of high levels of productivity. Front off-centre machining and angular drilling attachments are available. The weight, robust construction and reliability of the SR-32JN promote high accuracy, 24/7 machining.

The Star SF-25 multi-tasking, B-axis mill-turn centre, one of the manufacturer's first two fixed-headstock lathes, will make its first appearance at a MACH show. The 9-axis machine is a compact, 25 mm capacity turning centre intended for manufacturing complex parts in short cycle times, in particular for the medical, aerospace and automotive industries. A video showing the machine's capabilities may be seen at: http://www.youtube.com/watch?v=_nYBqUFN5iU

It is equipped with a live, 10-station, X/Y/Z turret below the 7,000 rpm main spindle. Above is an additional tool carrier in the form of a 20,000 rpm tool spindle with 110-degree B-axis rotation, fed from a 24-station automatic tool changer. The tool spindle also has X, Y and Z movements and a C-axis.

Orientation of the spindle allows a static tool to perform balanced turning together with the turret, if needed. However, the main function of the tool spindle is for prismatically machining the front and sides of a component.

It is also capable of accepting a rotary workholding unit, swinging down to the horizontal to oppose the main spindle and synchronously picking up a parted-off component. Reverse end turning and powered machining operations with the part rotating or positioned are then completed in conjunction with the turret, allowing all six sides of a part to be accessed.

Up to three static or driven tools can be mounted in each turret station and there is provision for rear working tools to access the front end of components. It means that the overall number of cutters in the working area can be very large, enabling the production of complex parts in one setup. A spindle chiller and high pressure coolant delivery are standard. Control is by the capable Fanuc 31i-5A.

Star's flagship, 38 mm capacity ST-38 sliding-head lathe will feature under power as a comprehensively equipped turning cell with bar magazine, high pressure coolant, mist extraction and full swarf management. The machine made its debut at the last MACH show.

Its 6 mm advantage in maximum bar diameter over the largest conventionally-sized sliders allows more companies to take advantage of the technology, with its faster cycle times, greater accuracy and higher productivity compared with fixed-head turning.

The mill-turn centre has 12 CNC axes shared between two C-axis spindles and three live turrets for one-hit machining of highly complex components. X and Z axis rapids are 30 m/min, resulting in short idle times.

The ST-38 incorporates Star's advanced motion control system for programming relatively simple turning operations, resulting in very high speed cycles on the machine. For parts involving a combination of simple and complex routines, the complete cycle can be made up from both motion control programming and traditional ISO code.

Completing the Star line-up at MACH will be the early-entry SR-20J with guide bush, its sister lathe SR-20JN without guide bush fitted with a bar feed for live demonstrations, and the popular, mid-range Star mill-turn slider, SR-20RIII.

Star Micronics GB Limited,

Chapel Street,

Melbourne, Derbyshire DE73 8JF.

Tel: 01332 864455. Fax: 01332 864005.

E-mail: sales@stargb.com

Web site: www.stargb.com

Contact: Bob Hunt, Managing Director.


More from Electrical Equipment & Systems