First DIEFFENBACHER Fiberforge for South Korea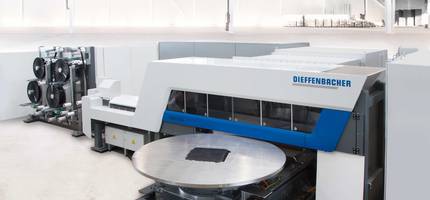 Ulsan National Institute of Science and Technology uses tape laying system for research
A new Fiberforge tape laying system from DIEFFENBACHER is helping the South Korea Ulsan National Institute of Science and Technology (UNIST) advance its research for companies in the automotive and aerospace industries.
In use since mid-October, the tape laying system ordered by UNIST in 2019 was the first Firberforge order for DIEFFENBACHER in South Korea. The installation and commissioning of the tape laying system began in August 2020. The system was successfully accepted in October.
"We develop new processes and applications, mainly for companies in the automotive and aerospace industries," said Prof. Young-Bin Park, Head of the UNIST Composites Research Center. "We were looking for a highly precise and economical tape laying system and found it at DIEFFENBACHER. Fiberforge takes our research to a whole new level."
"Despite the COVID-19 pandemic, which initially caused a slight delay in the start of construction work, the rest of the project went absolutely smoothly," added Prof. Park. "Many thanks to the entire DIEFFENBACHER team for the fast and uncomplicated installation and commissioning despite the difficult conditions. We were excited to begin using the Fiberforge for our research in mid-October."
The UNIST project underscores the versatility of the Fiberforge technology. The world's fastest tape laying system is suitable for both the mass production of lightweight components and research for new processes. More than 10 systems are in use in production worldwide. In addition to UNIST, seven other research institutes are equipped with Fiberforge technology.
Markus Trame 
Marketing and PR Manager
Tel.+49 72 62 65-8031
markus.trame@dieffenbacher.de