Fillmore Container Adds Mason Jar Fermentation Kit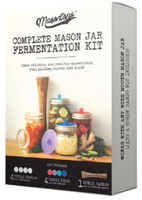 Lancaster, PA - October 2016 - Fillmore Container is expanding its fermentation product offerings with a Complete Mason Jar Fermentation Kit. The kit features four pickle pebbles, four pickle pipes and a pickle packer. The kit is packaged in a custom, beautifully designed color box, ideal for gifts or resale at workshops, demos or in retail.
The Complete Mason Jar Fermentation Kit can be used with any wide mouth mason jar (jars available for purchase separately). The pickle pipes for wide mouth jars come in four fun colors: blue, purple, teal and red. The pickle packer is an all-natural acacia wood tamper, 10" tall by 2.5" at the wide end and 2" at the smaller end. The kit also includes a set of four pickle pebbles that are 2 ¾" diameter by 3/4" thick. The pebbles are lead-free, food-grade and non-porous clear glass fermentation weights.
The Complete Mason Jar Fermentation Kit is available for purchase via Fillmore Container: http://www.fillmorecontainer.com/Complete-Mason-Jar-Fermentation-Kit-P6453.aspx?c=40
About Fillmore Container
Fillmore Container, formed in 1995 and based in Lancaster, PA, is a distributor of packaging products, and candle making supplies. Its mission is to offer the best selection, price, and service for quality glass containers including, food containers, candle containers, closures, candle wax, fragrance oils, candle wicks, canning accessories and candle accessories. Fillmore Container is dedicated to supplying the best price, service and logistical support for packaging needs. Products are suitable for food & beverage, drug & pharmaceutical, and cosmetic applications. www.fillmorecontainer.com
Contact:
Lisa Reinhart
Phone: 866-345-5527
Email: info@fillmorecontainer.com


 Website: www.fillmorecontainer.com
Blog: www.blog.fillmorecontainer.com
More from Packaging Products & Equipment