FDA Clears CASMED's Fore-Sight Tissue Oximetry OEM Module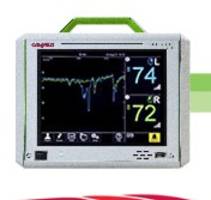 Filing for first OEM Module combination product expected by year-end 2018
BRANFORD, Conn., May 16, 2018 (GLOBE NEWSWIRE) -- CAS Medical Systems, Inc. (NASDAQ:CASM) (CASMED), a leader in medical products for non-invasive patient monitoring of tissue oxygenation, announces receipt of 510(k) clearance from the U.S. Food and Drug Administration (FDA) for its FORE-SIGHT® Tissue Oximetry OEM Module, an original equipment manufacturer (OEM) version of its next-generation FORE-SIGHT ELITE® Tissue Oximeter.
The OEM Module permits the highly accurate tissue oximetry values derived by CASMED's FORE-SIGHT technology to be displayed on a monitor manufactured by a third party, rather than requiring a standalone FORE-SIGHT monitor. The OEM Module includes a cable incorporating FORE-SIGHT technology that is connected to FORE-SIGHT disposable sensors placed on the patient's forehead. The OEM Module is designed to require minimal user-interface modifications for use with third-party monitors. CASMED expects a filing with the FDA for 510(k) clearance on its first OEM Module combination product before the end of 2018.
"Receiving FDA clearance is a major milestone as it creates a pathway for filing our OEM Module in combination with third-party monitors, making our best-in-class FORE-SIGHT oximetry technology available to manufacturers of other monitoring equipment and their customers," said Thomas M. Patton, President and Chief Executive Officer of CASMED. "Our OEM Module can open new sales channels for our disposable FORE-SIGHT sensors by allowing us to leverage partner selling resources to more quickly gain market share and expand the market for our oximetry. We are making progress with an initial partner on our first co-development project, with the goal of a filing for FDA clearance on our first combination product by year-end.
"Our OEM Module was developed to meet the needs of our hospital customers. A multi-parameter monitor is often preferred by hospitals over a standalone monitor, as floor space in the operating theatre and the intensive care unit are at a premium," he added. "By incorporating the industry's most accurate readings into the multi-parameter monitor, FORE-SIGHT tissue oximetry values may be transmitted seamlessly into the electronic patient record. Additionally, with the FORE-SIGHT values displayed on the multi-parameter monitor, it may be possible in the future to incorporate this useful measure of end-organ tissue oxygenation with predictive algorithms that could better alert clinicians in advance to hypoxic distress."
About CASMED® – Monitoring What's Vital
CASMED's vision is: "That no patient is harmed by undetected tissue hypoxia." Our FORE-SIGHT® Cerebral Oximeters provide a highly accurate, non-invasive measurement of tissue oxygenation in the brain. Direct monitoring of tissue oxygenation can provide clinicians with a superior and powerful tool to alert them to otherwise unrecognized and dangerous hypoxia, or low levels of oxygen, in the brain and other tissue, thereby empowering them to improve patient care. For further information regarding CASMED, visit the Company's website at www.FORE-SIGHT.com.
Company Contact
CAS Medical Systems, Inc.
Jeffery A. Baird
Chief Financial Officer 
(203) 315-6303
ir@casmed.com
Investors
LHA Investor Relations
Bruce Voss / Jody Cain
(310) 691-7100
bvoss@lhai.com
jcain@lhai.com
More from Fasteners & Hardware