Fast, Ergonomic and Cost Effective Load Handling with AirBalancer from Konecranes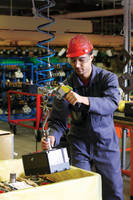 Springfield, OH - AirBalancer from Konecranes is a lifting device with a floating load unit, that aids in the picking, lifting, moving and precise placement of items by hand. With air pressure as the power source, the item being lifted can feel practically weightless to the person lifting it.

AirBalancer from Konecranes combines improved productivity with low acquisition, operating and maintenance costs. The speed and flexibility of AirBalancer make it the perfect alternative to traditional hoists. Its smooth, controlled movements are especially beneficial when handling fragile items. Full balancing control through automatic load sensing, load weight compensation, ergonomic design and a fully-enclosed control logic are just a few of the features that set it apart from traditional balancers.

AirBalancer can enhance assembly processes in the aviation, solar energy and automotive industries, where fast and smooth transfer movements with high precision are required.

With a top speed of 393 fpm, AirBalancer from Konecranes provides more efficient operation, shorter cycle times and significantly higher lifting/lowering speeds than chain hoists.

AirBalancer from Konecranes enhances safety with an automatic load sensing system, with no possibility of overload. Additional safety features include ball bearing rope guides, a hose management system and an available interlock and high precision base-load regulation. AirBalancer requires little maintenance and can withstand demanding applications.

AirBalancer relies solely on air pressure as its energy source, so there is no electricity required. Lifting, lowering, grabbing and pivoting can be done easily and smoothly using purely pneumatic control technology. Without using electricity as a power source, operating costs could be reduced.

By applying different control options and grab devices, AirBalancer can be tailored for practically any type of application. It can be combined with ergonomic workstation crane systems from Konecranes. AirBalancer is EN-14238 compliant.

To learn more about AirBalancer or other Workstation Lifting Solutions go to konecranesamericas.com.

Further information:

Scott Gilbey, Director of Marketing and Communications, Region Americas E-mail: scott.gilbey@konecranes.com or phone 937.525.5676

About Konecranes, Inc.

Konecranes is a world-leading group of Lifting Businesses(TM), serving a broad range of customers, including manufacturing and process industries, shipyards, ports and terminals. Konecranes provides productivity-enhancing lifting solutions as well as services for lifting equipment and machine tools of all makes.

In 2010, Group sales totalled EUR 1,546 million. The Group has 11,000 employees at 578 locations in 46 countries. Konecranes is listed on the NASDAQ OMX Helsinki (symbol: KCR1V).


More from Optics & Photonics