Fan Sound Enclosure Test Documents Performance in Supporting Compliance with OSHA Sound Exposure Levels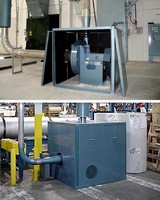 Modular Enclosure Cuts Sound Pressure Levels By 24%

New Test Laboratory Accurately Simulates Operating Conditions

Newark, DE: A test of a fan sound enclosure designed and manufactured by automated trim and waste handling system manufacturer Precision AirConvey (PAC), Newark, Del. (www.precisionairconvey.com) reveals that the equipment reduces sound pressure levels generated by fans powering pneumatic conveying systems from 84 dBA without the enclosure to 64 dBA. A 24% reduction, the test documents the enclosure supports compliance with the OSHA Noise Standard 29 CFR 1910.95 specifications for permissible sound exposure while promoting safety and comfort in the workplace.

Conducted on a full size, automated trim handling and removal system in the company's in-house testing laboratory, the fan sound enclosure test simulated actual operating conditions common to a converting, labeling or print to mail facility. The test set the fan sound enclosure around a material handling fan while paper edge trim was captured, cut and evacuated. The fan sound attenuation enclosure is also suitable for placement around venturi fans and a range of blowers and may be retrofit onto existing systems. A novel, modular concept, the fan sound enclosure features sound-absorbent, lightweight panels that may be easily removed for service with no tools.

For technical information and sales inquiries, contact Chris Lavelle, Precision AirConvey, 210 Executive Drive #6, Pencader Corporate Center, Newark, DE 19702; 302.999.8000; Fax 302.266.7559; precisionairconvey.com;
get-facts@airconvey.com.

This fan sound enclosure reduced sound pressure levels generated in a pneumatic conveying system by 24% in a test conducted on a full size, automated trim handling system by Precision AirConvey, Newark, Del. The fan sound enclosure is shown with its panels removed for access and in place for operation.


More from Agricultural & Farming Products