Extrutech Plastics Inc. Announces The Production of Basement Wall Forms for Housing.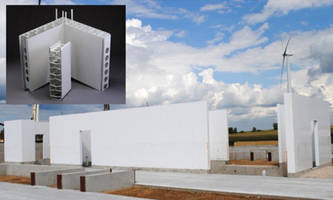 Manitowoc, WI, March 12, 2020 – Extrutech Plastics Inc. has begun production of the patented stay-in-place forms for residential basement walls. The Extrutech Forms are water proof, corrosion proof and will not rot or discolor. These forms are not affected by rodents or termites and are insect proof. These basement wall forms will not support mold or mildew and are perfect for high moisture, wet areas. They can be easily washed and sanitized daily if necessary. These forms are either 6" or 8" thick and 24" wide. They snap and lock together with an E-Spline Locking System. During assembly these forms are loaded with steel rebar and then filled with 4,000 # psi cement. Once the cement cures the walls are ready for construction of your new home.
The Extrutech basement forms are delivered as a pre-cut kit, and can be assembled on your cement slab or footings in only a few days with basic tools. The kits include all the plastic wall forms, corners and accessory trims to complete the walls. These basement wall forms provide a beautiful pre-finished basement room that is 100% water proof. These forms can be produced in your choice of three colors: white, beige or gray.
Extrutech will manufacture these basement forms to your home plans. Please send your new home plans to us and we can provide a detailed price quotation by our friendly sales staff.
For 28 years, since 1992, Extrutech Plastics has specialized in the manufacture of high quality, water proof building components in Manitowoc, Wisconsin. The Extrutech Forms are certified by ICC-ES and meet national building codes for construction projects throughout North America. Extrutech is a certified ISO 9001-2015 QMS manufacturer and a U.S. Government supplier. All products are made in the USA, by Americans, with only USA raw materials. We offer a 15 year warranty. Call us at 888-818-0118 or visit our website at www.epiplastics.com, for more information. Thank you …. END.
Contact:
Gregory R. Sheehy, President
Extrutech Plastics, Inc.
Phone: 888-818-0118
Fax: 920-684-4344
Email: info@epiplastics.com
Website: www.epiplastics.com
More from Software