Expansion of Metal Bellows Line Announced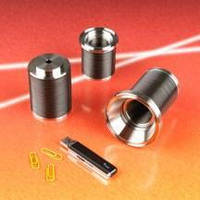 Ormond Beach, FL USA - BellowsTech has announced the addition of six new "miniature" edge welded metal bellows sizes to its existing product line. The smallest size being added to the product line has an outside diameter of 0.358 inch, and is Bellows Tech's smallest offering to date. The addition of these six news sizes will give existing customers and new prospects more options to design the ideal solution at an excellent price.

Each design is made in a round configuration and is available in any material, including stainless steel, high temperature alloys, and titanium.

These miniature bellows can be used in various applications, including oil and gas down hole tools, medical instruments, and automation equipment.

The six new miniature metal bellows sizes are as follows:

| Size Number | Outside Diameter | Inside Diameter |
| --- | --- | --- |
| 0036A | 0.358" | 0.200" |
| 0048A | 0.477" | 0.198" |
| 0118A | 1.181" | 0.886" |
| 0195A | 1.950" | 1.557" |
| 0219A | 2.190" | 1.690" |
| 0260B | 2.595" | 2.185" |


For a complete list of all sizes available from BellowsTech, visit:
http://www.bellowstech.com/metal-bellows/standard-bellows-die-list/

About BellowsTech, LLC.

BellowsTech, LLC is a premier manufacturer of metal edge welded bellows and assemblies, encompassing a wide array of alloys and dimensional configurations. The flexibility of materialand size of metal welded bellows as well as application expertise have led BellowsTech into industries including aerospace, medical, test, semiconductor, solar, and oil and gas. In 2007, BellowsTech was acquired by Servometer. Since 1957, Servometer has pioneered the manufacture of electrodeposited miniature metal bellows, bellows assemblies, contact springs, flexible shaft couplings and structurally rigid electroforms. Servometer miniature bellows are used in a variety of critical applications where high reliability and long-term use are required. Servometer has supported customers with quality products and technical service for over 50 years. Their unique, patented electrodeposition process has led Servometer to become the leading supplier of miniature metal bellows manufactured by this method.

More from Agricultural & Farming Products