Expanded Line of Storage Cases from Allegro Industries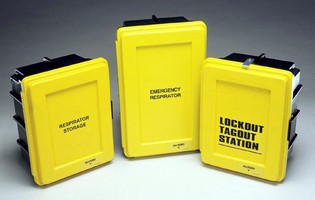 GARDEN GROVE, CA - Allegro Industries manufactures a comprehensive line of storage units, including storage cabinets and wall cabinets.

The Dual SCBA Wall Case is designed to meet the storage demand for two SCBAs or one SCBA and one cylinder with additional masks. The unit is made of corrosion-resistant ABS and has low-profile, easy access doors. The four windows allow visibility to SCBA gauges. Inside, Velcro® straps allow for quick release of cylinders; hooks for masks and optional shelves offer convenient storage.

Made from corrosion-resistant ABS with ultraviolet inhibitors, protect respirators against damaging plant and window environments with the Deluxe and Standard Wall Case. Nonmetallic hinges and latches prevent rust, while a rubber door seal protects equipment from dust and moisture. The Deluxe Case comes with a shelf and single SCBA cylinder bracket. The Standard Case offers the same large capacity, without the shelf or bracket.

Store APRs, cartridges, and other respirator accessories in the Respirator Storage Wall Case, and use the Emergency Respirator Wall Case to house up to two 5- to 10-minute EBSs.

Also available is an SCBA Cover Kit and brackets. The heavy duty vinyl cover with Velcro closure offers quick access The masonite backboard with the deluxe yellow steel cylinder bracket offer a rugged design.

Allegro offers two storage cabinets. The Generic One Door Cabinet is made of heavy-duty steel and includes two adjustable shelves, a handle, inspection window, and labeling kit. The Chem-Bio Escape Hood Wall Cabinet is made of corrosion-resistant steel and provides immediate access with right-hand door opening. Built-in features include lever, 13" x 13" tempered break-glass on door, lever, lock, alarm, and welded 6" deep shelf. Will hold between 6 and 10 escape hoods.

Five defibrillator wall cases come in plastic and metal. All four metal include a door-front window, turn-latch handle and prominent defibrillator graphics. LED visual alarm with key shutoff is available on the smallest model. The four white metal cases are constructed with corrosion-resistant steel and come standard with an alarm. The ABS plastic model is also white and comes with three optional slide-in shelves.

Allegro also carries a defibrillator bag that is perfect for transport and storage of any size defibrillator. The bag features double zipper for easy access, shoulder strap and padded divider to adjust the size of cargo area.

Allegro's PAPR Wall Case features a covered pass-through for electrical plug, which allows battery charging while in storage and keeps dirt and moisture out. PAPR may be stored without disassembling the breathing tube. The added wall shelf provides accessory storage, and two windows allow for quick identification of contents.

The Lockout/Tagout Wall Case is lightweight and molded from sturdy ABS plastic. It comes with three shelves, can be securely locked, and can be used for indoor or outdoor storage.

Designed to protect fire extinguishers from dust and harsh workplace environments, the red
Fire Extinguisher Wall Case is made of high impact, corrosion-resistant ABS. Holds all major extinguishers up to 30 lb size.

For convenience and flexibility, Allegro offers Generic Wall Cases, which come in four colors: white, green, yellow and red. Cases are available in two sizes and are constructed from corrosion-resistant ABS plastic. The labeling kit includes (17) labels, which allow you to customize your storage units.

Allegro celebrates twenty years in the safety business. Founded in 1987, Allegro Industries, Garden Grove, California, offers a full line of safety equipment and ergonomic products for the workplace. For more information, please call (800) 622-3530, fax (800) 362-7231, or visit www.allegrosafety.com. Allegro Industries, 7221 Orangewood Ave., Garden Grove, CA, 92641.