Computer and Communication Terminals
Evolving Ergonomics with Multi-Touch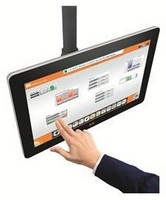 In the area of consumer electronics, multi-touch has not only changed the ergonomics of devices, it has changed user habits as well. In industrial automation, this technology has the potential to make machine operation more intuitive, faster and safer - in essence, to bring about a revolution in ergonomics for machine and system visualization units.



In industrial automation, there has been a strong and consistent trend towards touch screens for over a decade. They have even broken through in a big way in hygiene-related industries such as foodstuffs and pharmaceuticals. "Touch screens are not likely to completely replace devices with physical keys," explains Raimund Ruf, manager of the HMI Business Unit at BR. "Nevertheless; they will continue to advance into more and more areas due to their overall versatility. At the same time, we are seeing much more emphasis being placed on user ergonomics, both in how panel hardware is arranged as well as in the design of the user interface."



Two-finger ergonomics



The multi-touch technology we are familiar with from smartphones - which can detect and evaluate the presence of two or more points of contact with the screen at the same time - offers the next big leap in innovation in the field of machine manufacturing.



It promises a significant increase in usability by simplifying system operation while increasing the level of safety at the same time. Operations where one hand is used to open up a menu while the other sets parameters setting are definitely a possibility. This would eliminate the need to jump back and forth between sub-menus while increasing overall clarity in the application. The operator is able to get where he needs to go faster because complex menu layers can be eliminated. Handling lists would also be simplified since the operator could simply scroll through the content instead of having to rely on narrow scrollbars.



Operational safety can also be increased by implementing methods such as blocking certain actions until an additional button is pressed simultaneously with the other hand. Even if this doesn't completely replace dead-man's controls just yet, multi-touch operation used in this way can still prevent critical operating steps from being carried out unintentionally.



B&R has introduced its own multi-touch technology in the form of a sleek, 21.5" Full HD Automation Panel, designed specifically for industrial environments. Its solid glass surface makes it easy to clean and offers the operator excellent haptic properties.



B&R company profile

B&R is the world's largest and most successful private company in the area of automation equipment manufacturing. The motto "Perfection in Automation" has provided the foundation for the company since B&R was founded in 1979. Today, B&R employs 2,300 employees worldwide and has an exceptional global presence with 168 sales offices in 68 countries.



B&R Industrial Automation, Inc. North America, based in Atlanta, GA, has been working closely with their customers since 1987. Since then, B&R North America has continuously grown as a sales and support organization through both direct sales offices and B&R's unique Automation Partner distribution network. Today, B&R North America has a network of more than 24 offices throughout the USA and Canada and is there for its customers locally.

More from Architectural & Civil Engineering Products