Every Second Counts in an Emergency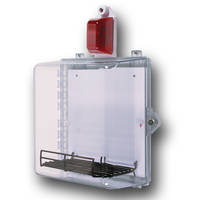 September 19, 2017 - In the event of an emergency, knowing where, and having access to an Automated External Defibrillator (AED) can be a matter of life or death. When every second counts, an AED unit needs to be highly visible and accessible.
STI's see-through polycarbonate cabinet offers excellent protection for AED units. This Protective Cabinet with Select-Alert alarm/strobe (STI-7535AED) allows the AED to be highly visible while the alarm helps guard against theft and vandalism. Cabinet mounts on the wall and is secured with a thumb lock, permitting easy access for emergency situations.
Alarm offers unique alarm tones. With independent strobe and siren timing (15, 30, 60 seconds or continuous), the alarm length can be adjusted for multiple settings. The alarm and flashing LEDs do not interfere with legitimate use of the AED unit, and the loud alarm can be used to help notify authorities in the area of the emergency.
To order or for more sales information on the STI Protective Cabinet with Select-Alert (STI-7535AED) or the complete Stopper Line, call 800-888-4784, fax 248-673-1246, email info@sti-usa.com or visit www.sti-usa.com. STI's address is: 2306 Airport Road, Waterford, MI 48327-1209.
Contact This Company Download Spec Sheet
More from Electrical Equipment & Systems