Eriez® Pet Food Processing Systems Protect Against Metal Contamination, Enabling Companies to Meet Higher Safety Standards Demanded by Consumers and New Government Regulations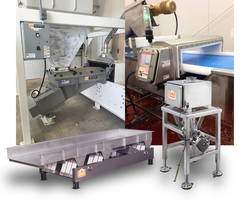 Erie, PA-Pet food processors rely on Eriez® state-of-the-art metal detectors, magnetic separators, vibratory feeders and conveyors to help achieve greater facility cleanliness, reduce the risk of pets ingesting harmful contaminants and meet new standards set forth by the Food Safety Modernization Act (FSMA).
"Today's most successful pet food processors understand customers view their pets as cherished family members and make protecting the safety of these animals a top priority," says Linda Mioduszewski, Eriez Technical Sales Representative. "When you also consider the ongoing further implementation of FSMA and the greater emphasis facilities are placing on maintaining a highly sanitary processing environment, it is easy to understand the steady growth Eriez has experienced in this booming market over the past several years."
Eriez systems are utilized throughout various stages of pet food processing, from the time raw ingredients enter a plant through final packaging. These advanced systems efficiently and effectively move products from one area to the next and safeguard against contamination.
Magnets remove ferrous contamination and work-hardened stainless steel while metal detectors remove any nonferrous metals. Model TM Conveyors provide trouble-free material handling and are designed to meet the cleanliness standards in place for food and other sanitary industries.
Eriez experts offer free plant audits and work closely with customers to design the most ideal system for their specific challenges. "One common application where we have been very successful is in feeding kibble from our 75B Feeders out of hoppers onto our long TM conveyors, which are feeding packaging machines and screening fines out," says John Klinge, Market Manager-Light Industry. He continues, "The finished kibble can flow through a vertical metal detector or the bag of pet food can pass through a tunnel style metal detector on a conveyor."
There are many system configurations that work well in pet food processing applications as customers open new plants to satisfy increased demand or update existing facilities to meet higher quality standards. Specific Eriez equipment used most often in pet food processing applications includes Xtreme® Metal Detectors, Drums in Housing, Hump Magnets, Grate Magnets, Deep Reach Magnets and Vibratory Feeders and Conveyors.
To learn more about systems for pet food processing, call Eriez and ask to speak with a light industry specialist or visit http://erieznews.com/nr394.
Eriez is recognized as world authority in separation technologies. The company's magnetic lift and separation, metal detection, fluid filtration, flotation, materials feeding, screening, conveying and controlling equipment have application in the process, metalworking, packaging, plastics, rubber, recycling, food, mining, aggregate and textile industries. Eriez manufactures and markets these products through 12 international facilities located on six continents. For more information, call toll-free (888) 300-ERIEZ (3743) within the U.S. and Canada.
For online users, visit www.eriez.com or send email to eriez@eriez.com. Eriez World Headquarters is located at 2200 Asbury Road, Erie, PA 16506
Contact:
Ed Stevens,
Stevens Strategic Communications,
John Blicha,
Eriez,
Related