Ergonomic Handling of Product Improves Safety and Increases Productivity for Manufacturer SIGCO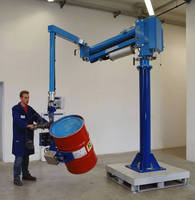 SIGCO, Inc., a premier glass and architectural metal fabricator/distributor in New England, needed an ergonomic manipulator solution for its cutting-edge manufacturing facility located in Westbrook, Maine. Jason Tardiff, operations manager at SIGCO, sought a solution that would adequately address safety concerns for its employees as well as enhance productivity. With the help of HAECO, Tardiff soon realized these goals were attainable using the pneumatically-powered Famatec Friendly product line of ergonomic manipulators.

"The Famatec Friendly precisely counterbalances heavy loads allowing a single operator to effortlessly suspend, rotate, tilt and transfer product - eliminating worker fatigue and injury as a result of manual lifting," reports Tardiff. In SIGCO's case, 500-pound product that used to be handled by as many as five employees is now manipulated by just one.

Tardiff adds, "The full control and ease of handling also enables the individual operator to move product faster compared to the traditional jib crane methods previously employed." HAECO adds that standard jib crane and hoist methods result in awkward movements and swinging of the product whereas the Famatec Friendly solution offers worry-free rigidity using a single, intuitive control. Product release is engineered to be safe - protected by a special safety device that supports the product until it reaches its destination.

SIGCO has a total of five Famatec Friendly 250 kg manipulators installed at its Maine manufacturing facility; each unit is rated to easily handle load capacities up to 550 pounds. Various Famatec Friendly models are available from HAECO with load capacities up to 1,100 pounds (500 kg) and a potential working radius of up to 20 ft (6 m). The Famatec Friendly costs less than an average worker's compensation back-injury claim, according to HAECO.

The Famatec product is available with a wide range of mounting options including column, overhead, tracks, wheeled or with a free-standing, fork-truck transportable base. The solution is adaptable with a wide range of end-of-arm tooling options including suction cups, magnets and also specialized grippers for use in various custom industrial applications.

For more information, contact: HAECO, 6504 Snider Rd., Loveland, OH 45140. Tel: (800) 852-3522. Fax 513-722-1032. Email: sales@haeco.com or visit: www.ergonomicmanipulators.com.


More from Paints & Coatings