ERG To Present 'High Surface Area' Open-Cell Foam Material At Clean Power 2021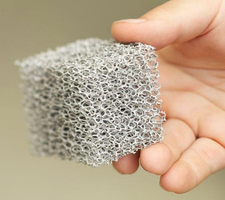 Sparks, NV – ERG Materials and Aerospace is exhibiting at Clean Power 2021 in Salt Lake City, Utah December 7th and 8th, 2021.  Company representatives will exhibit samples and answer questions about their Duocel® foam material, a lightweight, rigid and customizable open cell material with solid ligaments.
Raw foam samples as well as finished products will be on display in booth 501 to demonstrate the abilities of this exciting material.  This is a great opportunity for manufacturers and researchers to experience firsthand how open cell foam can solve difficult problems in clean energy technology.
Duocel® foam features high surface area to volume ratios for heat transfer rates unattainable with any other material and it can be compressed to further increase this ratio.  Along with high strength to weight ratio, this patented material offers solutions not available anywhere else.
ERG is the sole manufacturer of Duocel® foam.  The patented light-weight material is used in a variety of applications ranging from high efficiency heat exchangers to electrodes and catalyst support for carbon capture and ozone scrubbers.
Duocel® foam is available in a variety of raw materials including aluminum, copper, steel, carbon or ceramics such as silicon carbide.
ERG has a team of experienced engineers to design custom foam-based products.  Knowledgeable engineers can help with raw material, density, pore size and other project decisions customers may not be experienced with.  Two production facilities have the capability to deliver finished products directly to the customer. 
If you can't make it to the show, you can view a variety of ERG's foam applications, along with engineering and production capabilities anytime on their website: https://www.ergaerospace.com/
About ERG Aerospace:
ERG Aerospace has been in business since 1967 and is the sole manufacturer of Duocel® foam, a strong, light weight, rigid foam material with solid ligaments and a variety of uses.    Duocel® foam is found in a variety of products including air/oil separators, heat sinks, energy absorbers, flame arrestors, electrodes and more.  The company has components on the space shuttle, the international space station, and commercial aircraft around the world.  ERG specializes in solutions of all sizes and has the capacity to manufacture custom components in house.  The company holds several patents for their open-cell foam products.