Epoxy Paste Patching Material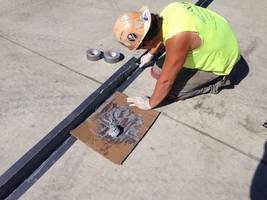 Polyset, a leading manufacturer of polymer materials, offers a lightweight epoxy paste patching material. Designed for overhead and vertical applications, Ply-Seal® Epoxy Paste has excellent adhesion to most construction materials.
Ply-Seal® Epoxy Paste is a 100% solids, two-component, moisture insensitive, lightweight, thixotropic, waterproof, epoxy paste patching material that meets ASTM C881, Type I & III, Grade 3, Class B and C. Available in gray, the epoxy paste is ideal for bonding cured concrete to cured concrete, repairing spalled joint edges and surfaces, anchoring bolts, dowels, and posts, and acting as a surface seal for epoxy injection.
Ply-Seal® Epoxy Paste may be applied by trowel or caulk gun at a minimum application temperature is 50°F.
ABOUT POLYSET
Polyset is a technology-driven materials company with a philosophy of designing exceptional resin systems to meet the needs of the customer by maximizing the performance of the product within the cost parameters of the project.
As a global market leader for more than 30 years, Polyset's diversified product lines include polyurethane adhesive, elastomer and foam systems for the industrial air filtration industry, state-of-the-art expansion joint systems for the construction industry, protective coatings for the marine and offshore markets, and cationic catalysts for epoxy-curing applications.
Polyset Contact
Denise Czerpak
More from Materials