EPA Approves AMOLEAâ"¢ AS-300 Next-Generation Nonflammable Fluorinated Precision Cleaning Solvents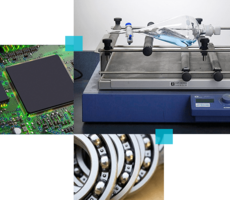 EXTON, Pa., January 25, 2022 -- AGC has developed new HFCO chemistry to provide manufacturers of high-value industrial components, electronics and medical devices with more environmentally friendly precision cleaning alternatives. AMOLEA™ AS-300 and AS-300AT solvents are categorized as nonhazardous air pollutants with an ozone depletion potential near zero and global warming potential of less than one. The U.S. Environmental Protection Agency's Significant New Alternatives Policy (SNAP) program lists these solvents as acceptable for electronics cleaning, metals cleaning, precision cleaning and coating diluents.
AMOLEA AS-300 and AS-300AT are ideal replacements for HFC solvents and low-boiling-point HCFO solvents as well as n-propyl bromide (nPB or 1-BP) and trichloroethylene, which are both undergoing risk evaluation under the EPA's Toxic Substances Control Act (TSCA).
AMOLEA AS-300 and AS-300AT HCFO solvents have advantageous boiling points, superior solvency with Kb value of 44 and 118 respectively, and favorable HSE (Health, Safety, Environment) profiles.
For details about the EPA's Assessing and Managing Chemicals under TSCA, visit the n-propyl bromide and trichloroethylene risk management pages.
About EPA's SNAP Program
Under Section 612 of the Clean Air Act (CAA), EPA's Significant New Alternatives Policy program reviews substitutes within a comparative risk framework in industrial sectors including adhesives, coatings, inks, aerosols, cleaning solvents, fire suppression and explosion protection, foam blowing agents, refrigeration and air conditioning and sterilants. Under this program, the EPA evaluates new chemicals and technologies to determine if they are feasible alternatives to environmentally undesirable products.
About AGC Chemicals Americas Inc.
AGC Chemicals Americas is a wholly owned subsidiary of AGC Inc., a $14.1 billion multinational corporation and one of the world's largest manufacturers of glass, electronic displays and chemical products. The company was formed in 2004 through the merging of sister companies Asahi Glass Fluoropolymers USA and AGA Chemicals. Headquartered in Exton, Pennsylvania, including a state-of-the-art technology center, AGC Chemicals Americas maintains manufacturing operations in nearby Thorndale, Pennsylvania, a satellite sales office in Sao Paulo, Brazil, and warehouses located throughout North America. www.agcchem.com
Media Contact:
Lisa Goetz, Schubert b2b
[email protected]
+1-610-269-2100, Ext. 244