EP Finalist for Category Interconnect GP21 / GS21 400 VDC Coupler System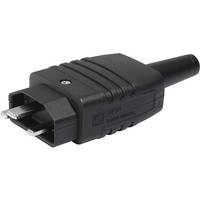 Santa Rosa, California, February 27, 2020 - SCHURTER is excited to announce that the 400 VDC Connector System GP21 / GS21 was selected as a Finalist for the Electronic Products 2019 Product of the Year Awards. See attached or read here for more details: https://www.electronicproducts.com/News/EP_announces_24_finalists_for_the_2019_Product_of_the_Year_Awards.aspx#
Electronic Products has announced the finalists for the 2019 Product of the Year Awards. The annual awards, now in its 44th year, recognizes outstanding products that represent any or all of the following qualities: a significant advancement in a technology or its application, an exceptionally innovative design, a substantial achievement in price/performance, improvements in design performance, and the potential for new product designs/opportunities. EP editors evaluated nearly 150 products across 10 electronic component categories. Winners will be announced in EP's January/February 2020 digital issue.
Schurter, 400-VDC connector system (GP21 rewireable plug and the GS21 panel-mount socket outlet)
Schurter claims that the GS21 socket-outlet and GP21 plug are the first 400-VDC connector system designed according to the IEC standard TS 62735-1 for a power level up to 2.6 kW, enabling a worldwide standardized approach to DC power distribution in data centers. Safety is key, said the company. The new IEC TS 62735-1 standard for DC power distribution requires a more complete design than traditional AC connector systems outlined in the IEC standard 60320. The DC connector systems must be designed while considering the increased potential for arcing when disconnecting the DC power supply under load.
The cost-intensive, failure-susceptible, and wasteful transforming of AC-to-AC or AC-to-DC conversion can be avoided with a complete DC power architecture, said Schurter. From source to load, a DC architecture improves the overall quality of the power being supplied by virtue of its design. Problems with harmonics and harmonic distortions are eliminated, and there is no longer the need for phase compensation or coupling synchronization to different sources and networks, thereby increasing operational reliability and improving efficiency.
About SCHURTER Inc.
The SCHURTER Group is the world's leading Swiss technology company providing components and complex solutions that ensure safe power supply and simplified equipment operation. The company's professional competence, financial independence, innovative strength and distinctive corporate culture, propel the SCHURTER Group, together with its customers and partners, into the digital future. The safe&easy brand claim not only refers to the products, but also the company's business philosophy, which strives for sustainable success through innovation, high-quality products and service, flexibility and proximity to customers.
SCHURTER is known globally as an innovator, manufacturer and distributor of fuses, connectors, circuit breakers, switches, EMC products, and input systems. Touch screens and touch panels, capacitive sensor keypads, membrane keypads and housing systems are developed in close cooperation with its customers. Within its business unit Solutions, SCHURTER combines all competencies and puts them at the customer's disposal. SCHURTER products and solutions are developed especially for specific industry segments – medical, data and communication, automotive, avionics & space, energy and the broader industrial market. SCHURTER considers the quality of its products and services as the key factor to the company's lasting success. Its management and improvement processes are designed and certified according to ISO 9001, ISO 13485, ISO 14001, ISO 45001 and IATF 16949, using the EFQM and Baldrige Excellence Models, as well as the application of Lean Management principles such as Value Stream Planning, Power Innovation, SSO, and Six Sigma.
SCHURTER Inc., Santa Rosa, California is the exclusive North America sales and distribution office for the SCHURTER Group.
Editorial Contact:
Suzanne Bowser
suzanne.bowser@schurter.com
Contact This Company Download Spec Sheet
More from Electrical Equipment & Systems