Ensinger High-performance Plastics First to Comply Both with EN ISO 23936-1 and NORSOK M-710 Standards for Oil & Gas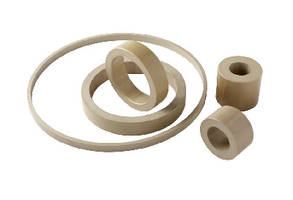 Ensinger announces that semi-finished products made with VICTREX® PEEK polyetherether-ketone resin are the first to achieve compliance for use in highly demanding oil and gas applications according to EN ISO 23936-1:2009 as well as NORSOK M-710, Edition 3.



Polyetheretherketone (PEEK) is a semi-crystalline thermoplastic. The most well-known member of the polyaryletherketone group has excellent sliding and mechanical properties, even under thermal load. Outstanding chemical resistance and a high operating temperature round off its profile and make TECAPEEK(R) an almost universally applicable material for highly stressed parts in extreme environments. As such, TECAPEEK is a widely used material in oil & gas environments for a broad range of applications such as bearings, seals, back-up rings or subsea connectors. Fiber-reinforced grades are suitable for use in parts which are exposed to high static loads over long periods in high-temperature conditions.



The tests Ensinger performed according to the conditions of EN ISO 23936-1 and NORSOK M-710 give an indication about the material's resistance to severe conditions and help to evaluate the lifetime in a unique way linked to real-time aging. The aggressive conditions of temperature (up to 240°C), pressure (up to 300 bar), time (up to 60 days) as well as the high H2S levels (10% H2S in a 30% gas phase) are harsher than for any other tested material on the market.



"This allows customers to see the capabilities and limits of the material and to evaluate and prepare the right choice of material for even higher requirements in future applications," said Lance Nixon, Industry Segment manager Oil & Gas, Ensinger Inc. Offshore down hole operations face a growing trend towards deeper drillings, higher temperatures, higher pressures and more severe conditions which also create higher requirements for the materials used. The pre-qualified Ensinger TECAPEEK grades set a new standard and help support customers' needs in the oil & gas industry.



Ensinger tested TECAPEEK natural and TECAPEEK GF30 natural for sour fluid resistance, based on the procedures given in EN ISO 23936-1:2009 and the NORSOK M-710, Edition 3 standards. Both standards define requirements and recommendations for the selection and qualification of polymers / thermoplastics for applications in oil and gas production. Ensinger is first to offer stock shapes compliant with EN ISO 23936-1 for thermoplastics instead of referring to the requirements of EN ISO 23936-2 for elastomers as part of NORSOK M-710, Ed. 3.



Severe test conditions successfully passed



The tests were performed at Element Materials Technology, Laboratory, UK. The test conditions were chosen such that both standards (EN ISO 23936-1 and NORSOK M-710, Ed. 3) were satisfied: in other words, with a single exposure test program, successful materials meet the acceptance criteria given in each standard. Accordingly, tensile tests were carried out after exposure at 200-240°C to a test gas mixture and synthetic hydrocarbon oil above a water phase in a perforated steel vessel for periods up to 60 days. The test gas mixture (10/5/85 mol% H2S/CO2/CH4) was added at 100 bar at 40°C, with heating to test temperature generating equilibrium pressures in the 160-300 bar range.



Periodic testing of swelling, visual inspection and tensile tests proved that the TECAPEEK grades are fully acceptable for ISO and NORSOK requirements. The results allow the Arrhenius model to be applied and give a calculated life estimation according to the maximum stress. Comparing the test results on the TECAPEEK stock shapes and the VICTREX® PEEK base resin, the results are very consistent and give evidence why polyetheretherketone is the material of choice for many applications in the oil & gas industry.



Ensinger's range of high performance and engineering plastic materials offer a variety of properties that benefit the oil and gas sector. Typical applications such as sheaves, hydrophone housing, seals, back-up rings, bushes and gears can gain from the weight reductions, corrosion resistance, thermal de-coupling and minimized noise emissions provided by these materials. The current systems in place within the oil and gas sector use largely modern materials such as TECASINT (PI), TECAST (PA 6 C) and TECAPEEK (PEEK).



About Ensinger

The Ensinger group is engaged in the development, manufacture and sale of compounds, semi-finished materials, profiles and technical parts made of engineering and high performance plastics through extrusion, machining, injection moulding, compression moulding and spin moulding. With a total of 2,200 employees at 28 locations, the family-owned enterprise is represented worldwide in all major industrial regions with manufacturing facilities or sales offices.



For more information call 1-800-243-3221, Fax 724-746-9209, e-mail

[email protected]

,  or visit www.ensinger-inc.com.