Emuge Introduces New Line of Turbine End Mills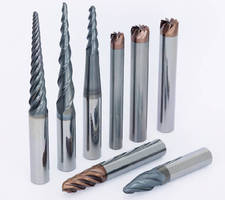 New Program Includes Innovative, Unique Barrel-Shaped Oval Form End Mills.



WEST BOYLSTON, MA U.S.A.  – Today, Emuge Corp. (www.emuge.com)  announced they are introducing a new Solid Carbide Turbine End Mills Program designed for milling turbine blades, impellers, blisks and other complex 5-Axis components.  Emuge Turbine End Mills feature a variety of styles including tapered ball nose, unique barrel-shape designs and optimum tool selections from their Top-Cut, Tinox-Cut, Multi-Cut and Indexable Insert Tooling programs.



Click (Ctrl + Click) the video below to view a Tinox tool and Oval-Form Barrel cutter blade application example.

"We are very pleased to offer our customers excellent solutions for milling turbines blades," said Mr. Charles Colonair, Milling Product Manager at Emuge Corp. "OEMs and job shops in industries such as automotive, aerospace and power generation will benefit from increased productivity using these tools."



The Emuge Turbine End Mill line includes Barrel-Shaped Oval Form End Mills, which provide manufacturers with an exceptionally efficient finishing tool for high-strength materials.  The unique barrel-shaped oval form simulates the attributes of ball nose end mills having a diameter range of 150-190 mm, to provide double the axial cut vs. a standard ball nose end mill, for a superior surface finish. The Barrel-Shaped Oval Form End Mills are offered with 3 and 4 flutes with ALCR (aluminum-chromium)  coating and have a form tolerance of +/- 0.01 mm (0.0004"), providing highly accurate low-vibration machining.



Torus End Mills for the semi-finishing and finishing of turbine blades feature 5 – 13 flutes with variable spacing to minimize vibrations while machining.  Designs include corner radius (0.8 mm, 1 mm and 2 mm), straight and 8° taper angle versions.    Internal coolant supply capability is provided.  Tapered Ball Nose End Mills are offered with a 4° taper angle and feature a design with 3 flutes in the ball nose section and 6 flutes radially, a design which provides tool stability and improved surface finish of turbine blades.  Torus and Tapered Ball Nose End Mills are especially well suited for milling in high-strength materials such as nickel-based alloys and titanium alloys.  Both styles of end mills feature advanced multilayered TiALN coating for high heat resistance.



Emuge also offers Tapered Ball Nose End Mills in the new program that excel in the roughing, semi-finishing and finishing of impellers.  These Tapered Ball Nose end mills have a 3 flute design with a 4° taper angle and also feature a design with 3 flutes in the ball nose section and 6 flutes radially. ALCR coating allows for these tools to achieve higher feed speeds, metal removal rate and extremely high performance especially in difficult- to- cut materials.



Emuge Corp. is a wholly owned subsidiary of the 1,500+ employee German company EMUGE-Werk Richard Glimpel GmbH & Co. KG (Lauf, Germany) that has been the product technology and performance leader in their field for over 90 years. The company manufactures an extensive line of taps, thread mills, end mills, toolholders, clamping devices and other rotary cutting tools, over 100,000 items sold through distributors worldwide.  Emuge also offers end-user technical support through a network of in-the-field engineers and in-house product specialists, all with extensive tooling and application experience.



Over 10,000 types of cutting tools and accessories are stocked in the company's U.S. and Canadian Headquarters located in West Boylston, MA, U.S.A. The 21,000 square foot state-of-the-art facility also serves as a technology center with a machining and tooling demonstration showroom and classroom. For more information on Emuge products, contact Emuge at 1800 Century Drive, West Boylston, MA 01583-2121, Tel. 800-323-3013, internet:  www.emuge.com.

More from Adhesives & Sealants